Blog, Public Places sector,
Digital Court
Innovation and agility in the courts
When digital signage serves justice and citizens in judicial and administrative courts.
On September 30, 2021, the 133rd Congress of Commercial Court Clerks will be held, with the theme "The Clerk, a trusted contractor for public service."
In a recent interview, Sophie Jonval, President of the National Council of Commercial Court Clerks states:
"While it is still too early to draw conclusions on the impact of the crisis on our economy, one thing is certain: the transformation of our entrepreneurial fabric is accelerating and is confirmed over time. To support these changes, we must find the right balance between innovation, agility, confidence and security. This is the vision of commercial justice carried by the clerks of the commercial courts.
Innovation, agility, trust, security
At Iagona, we cultivate these same values in the management of the customer journey, whatever the field of activity. By meeting the needs of public administrations and communities with the latest generation digital tools, reliable, interactive, which make everyone's life easier. In short, we make digital useful.
Technological innovation has been at the heart of our business for over 30 years. With our teams of hardware and software engineers, we develop, manufacture, market and maintain our digital solutions in all sectors, including government and local authorities.
And we are proud to promote innovation in the service of people and businesses with the election in late August of Iagona to the governance of Cap Digital, in the person of its president, Pascal Hermandesse, to represent, challenge and accompany the College of medium-sized enterprises.
Innovation and agility go hand in hand and are part of the wave of modernization of the public domain and the courts.
Digital signage in all its forms has irrefutable advantages to support the courts in their public service mission -in addition to the main mission of arbitrating disputes and accompanying humans and companies-, namely :
To welcome
To direct towards the courtrooms, deliberation rooms, the "salle des pas perdus"…
Informing
Offering self-service (file search, printing of legal documents)
Disseminate updated information in real time
Agility consists of rethinking the visitor's journey in a new light, making it easier for them to access information, the various procedures and services.
From the main entrance, outside, with a clearer, interactive communication, in the form of a digital TOTEM, for example.
Inside, SCREENS can complete the informative communication (hearing schedules, location, health instructions), or institutional.
PUPITERS in the form of kiosks to display legal information and direct visitors.
Digital Kiosks to take a waiting ticket, pay for a service, print a K-BIS. Or consult your digital file registered on infogreffe.fr, monidenum.fr or (tribunaldigital.fr). The interfaces of the digital terminals can accommodate all kinds of applications, depending on specific needs.
Example: the MK Bis terminal, or how to print a K-BIS in self-service
An innovative terminal for an efficient service in the commercial court registries?
You dreamed of it, we created it!
The MK Bis terminal has an intuitive interface that makes it easy to use and allows applicants to quickly and independently print the legal documents they need. This means less waiting time and optimized customer service.
Through a secure connection to the registry software and with an integrated payment module, the MK Bis terminal prints K-Bis extracts and other legal documents on standard A4 paper, delivering an invoice for the ordered operations.
A simple, innovative and intuitive digital service.
Digital kiosk, totems, screen wall, there is no limit to the simplification of the citizen's journey when using digital technology, satisfaction is guaranteed.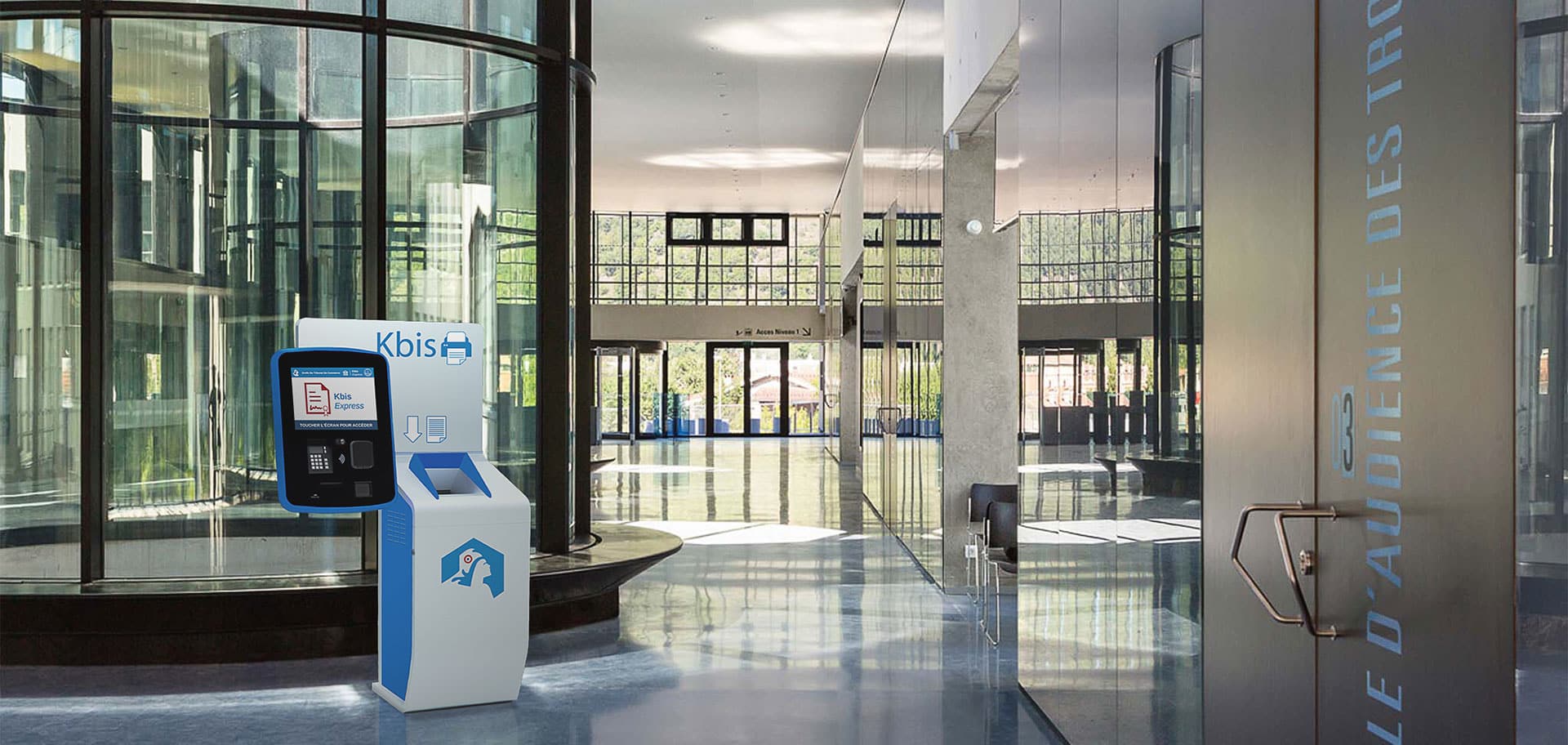 Iagona offers a scalable solution compatible with our digital signage software Neoscreen.
Neoscreen is certainly a display software, but it is above all a multi-service software suite!
Did you know that you can connect Neoscreen to connected objects? Environment sensors, presence sensors? Iagona players coupled with Neoscreen also allow you to control the opening of a door or a barrier.
Developed to allow you to expand your digital signage offer, Neoscreen extensions adapt to your needs.
Accessible directly from your Neoscreen dashboard, they allow you to manage everything from a single online interface.
Whether you need to manage dynamic signage or display information in an interactive way, everything is possible with Neoscreen.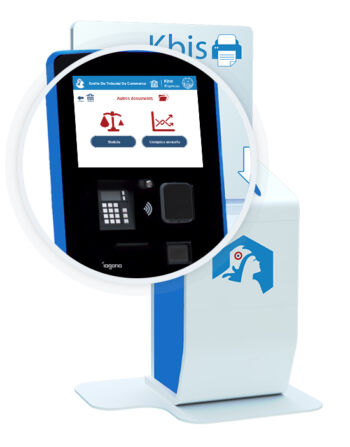 Creating a link with the citizens who are called to visit the courts is a first step towards a relationship of trust.
Self-service digital tools undeniably allow you to optimize the handling of visitors whose requests require more time to be processed and listened to. The perception of your services by the public will be better.
In the same way, we establish a relationship of trust with our suppliers and our customers and put our expertise and our common energy at the service of their projects.
Security is at the heart of our approach, as is compliance with CE standards and confidentiality.
As well as the guarantee of personalized assistance, with a hotline based in France and a team of more than 400 expert technicians, ready to intervene.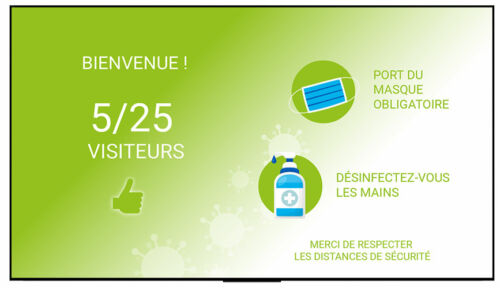 Respect of the sanitary rules
Courts are crowded places, which requires crowd management and increased control.
With CountEx, we offer a people counting solution.
We have also developed a standalone solution that meets government requirements. This solution allows you to control the Sanitary Pass of your visitors with our K-Pass terminal (100% RGPD).
Check out our other articles