Digital signage and kiosks
in the banking sector
Easy to use digital technology is reinventing the customer experience
Interactive touch-screen terminals and dynamic display systems, cutting edge expertise


30 years after inventing the automatic cheque deposit system, Iagona, manufacturer of innovative digital terminals and dynamic display systems, aids banks to improve their customer experiences by highlighting the advantages of digital technology: performance, speed and reliability.
To meet the competition posed by on-line banking services where everything is rapid and paper-free, high-street banks must reinvent and reconsider the customer's experience inside their branches. Improving the customer experience in the banking sector must involve digitalising reception and advisory areas where the customer must feel secure and that they will be listened to.
Interactive touch-screen terminals – Self-service solutions


Are you looking for self-service solutions for your bank? Iagona automatic terminals can automate the simpler tasks and render them more dynamic. Amongst our solutions you will find the digital cheque deposit terminal best suited for your needs, automatic cash deposit machines, cash machines (ATM) and digital customer reception terminals.
By carefully choosing the most suited solution for your bank's self-service area you will be able to greatly reduce queues during high customer frequency periods. A certain number of tasks can be completed directly by the automated systems or terminals in your self-service area.
Cash withdrawals or deposits, cheque deposits and statement print-outs now no longer require the intervention of an agent since these machines have intuitive interfaces that have been designed with the needs of all customers in mind. This will save time for your agents and allow them to concentrate on more high value tasks. They will be more available for complex demands, and thus improve customer experience within the branch.
The deployment of digital customer reception terminals will not make customer reception less human. In fact they will allow you to manage customer flow better thanks to targeted customer reception procedures. A customer who comes into a bank to request a loan will require a more technical reception than if they are just coming in to pick up a cheque book or access the safe-deposit room. The digital customer reception terminal will contribute to improving the bank's image and encouraging customers to return to the bank.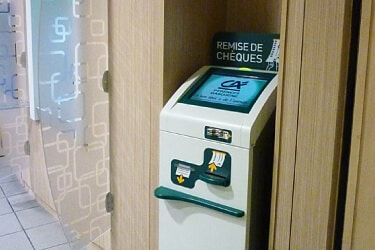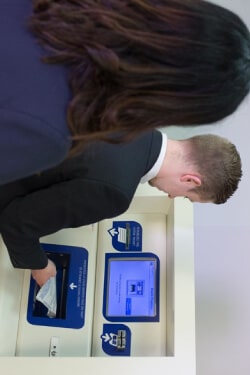 Dynamic display systems in banks
Dynamic display screens are now present in most public spaces (shopping centres, stores, restaurants, post offices, railway stations, administrative services), they play a major role in effective communication strategies and can be used both internally or to target consumers.
In addition to this, as prices have dropped over the last few years dynamic display systems have become an affordable digital communication method, suitable equipment can now be proposed to meet all budgets.
Dynamic display systems allow you to make your communication and information campaigns more efficient by using all of your available screens whether they are associated with an automatic teller machine, a customer reception terminal or just hung on a wall.
Content management is made simple, the Neoscreen dynamic display software allows you to easily program the display of promotional images, animations or videos. You can promote your financial products, image or even present the local news.
Interact with your customers

The main advantage of dynamic display systems is that they can bring you closer to your customers and improve your shared empathy with them. Dynamic display systems allow you to communicate via modern and interactive supports. Messages can be animated giving them much more impact than printed brochures. By displaying the local news on your screens you can become a local player, get closer to the preoccupations of your customers and return to the concept of a neighbourhood banking service.
Improve your bank's brand image

Dynamic display systems are a great way to achieve a more modern and connected brand image. Consumers are very open to digital communication since it is both dynamic and engaging. Content does not need to be limited to static text messages and can use all of the available formats such as video, graphics or animations.
Assist sales and customer reception

Dynamic display systems are not just for making customer waiting times more bearable. It is also an excellent way to make sales, promoting your financial products via a much more engaging communication method.
Digital technology can contribute to your environmental commitment

Dynamic displays are a very useful communication tool for hotel or restaurant businesses. Just as a restaurant cannot just stick to serving meals; a hotel should not just stick to proposing rooms for a night. These hotel and restaurant establishments must seek to offer the best possible customer experience such that customers wish to return and turnover progresses sustainably.
The functions of our dynamic display software that are best suited for banking sector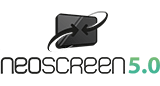 NEOSCREEN
To create and display your whole multimedia content,
however and wherever you like !