Dynamic displays and terminals in the hotel trade
Digital technology has become omnipresent in businesses and retail outlets. Dynamic display solutions can attract more visitors, increase sales and provide a better customer experience.
Discover Iagona's software solutions, specially designed for the hotel trade.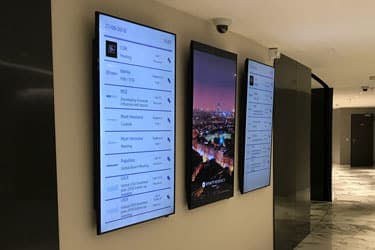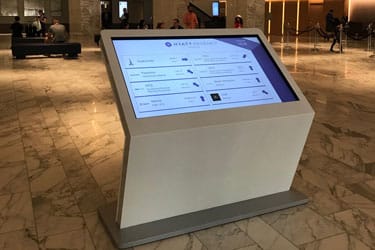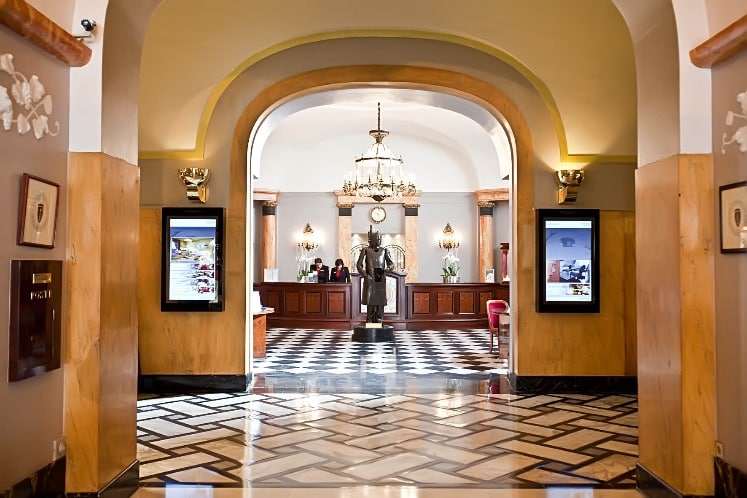 Why should you opt for a dynamic display solution for your hotel?
Each Iagona dynamic display solution is the fruit of a profound conceptual process through which we seek to comprehend your expectations and needs to provide you with a reliable and complete dynamic solution. To achieve this, it must fulfil a large number of missions:
You only get one chance to make a good impression! You can increase your chances of becoming an essential partner for your customers by communicating about your service offers, guiding customers and sharing useful information. Dynamic displays will improve your image.
Promoting and highlighting your offer is essential if you want to attract new customers and increase sales. Some of the best ways to achieve your objectives could be to display your room rates, the opening hours of your restaurant or spa, show photos of the rooms or present other services that you propose.
Organise business meetings

A dynamic display solution (terminals or totems) can be used to welcome and guide guests to the locations of business meetings or conferences held at your hotel.

Dynamic displays can help you to make ties! Encourage your customers to stay informed about your activities and cultivate your on-line communities on social media. You can invite your customers to share feedback and photos of their experiences.
Communicate more easily
with interactive terminals and screens
These innovative dynamic display solutions are highly attractive and will contribute to modernising your brand image.
Dynamic displays are a very useful communication tool for the hotel trade.
Just as a restaurant cannot just stick to serving meals; a hotel should not just stick to proposing rooms for a night. Hotel establishments must try to offer the best possible customer experience such that customers wish to return, the result will be a sustainable increase in turnover.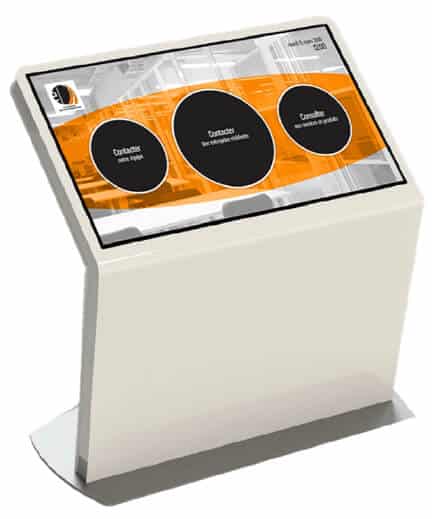 The customer is always right
Dynamic displays and digital terminals allow you to serve your customers 24/7 and in any language. This can be a major advantage for hotels which do not have night-staff for example.
Terminals without payment modules can provide tourist information and contribute to improving customer experiences without the need for extra staff. They are very easy to use and well designed.
An interactive terminal can propose service reservations (spa appointments, sign-up for visits organised by the establishment, a tables at a restaurant or golf course reservations, etc.)
Terminals with payment modules can also allow the customer to pay for these services: spa, golf, city tour, cookery class, taxi reservations, etc.
Check-in and check-out
Insert your payment card into the terminal and receive the access code for your room and get immediate access. Our terminals are fully compatible with the main reservation and reception service management systems currently on the market.