Digital is most valuable when, combined with design, it becomes simple, noticeable, beautiful and reliable.
That's how we make digital useful.
Iagona,  A French Tech label for recognized digital expertises.
Iagona is a French company created in 1988 and has always built its products in France. We are proud to offer digital solutions that not only showcase unbelievable expertise in French production but also our employees' talents.
Joining La French Tech enables us to display a worldwide recognized technology label. This group brings together a brand, an emblem, all those who undertake, develop, innovate contribute to the dynamism and growth of French start-ups. This optimistic and ambitious mind, resolutely turned towards the future, is one of the values that all Iagona employees share.
We welcome this innovative public initiative, piloted by the Ministry of the Economy, Industry and Digital, at the service of this collective to place France among the major national startups.
In 2018, Iagona was selected to be one of 5,000 companies worldwide in the BPI network. BPI's promise is to boost their members' business through training and networking through a strong network!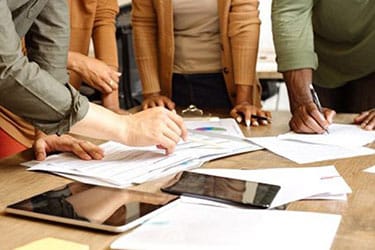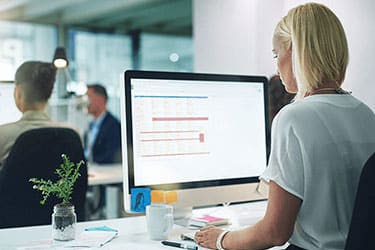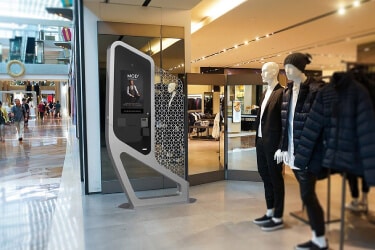 Iagona's extensive experience at your service

Iagona's staff advise each customer on the most suited product for their technical, retail and economic needs.
Feasibility studies and Return On Investment estimation (ROI)
Innovative hardware solution design
Specifications document generation
From idea to reality.

Iagona's kiosks and totems are the most visible part of our offer. They successfully combine aesthetics and functionality.
Iagona is a key partner for your projects, our hardware design office employs reputed designers able to create reliable, competitive, adaptable, customizable, mass-producible solutions in compliance with all applicable standard …and design requirements.
An interactive communication tool

A complete solution made in France
The digital signage is an essential communication tool which enables the diffusion of a multitude of content in real time. Broadcasting messages on dynamic screens captures the attention of your audience and engages them in innovative ways.
The dynamic display allows the dissemination of targeted information with a strict temporal control. The messages you broadcast are not ephemeral. They can be renewed as many times as preferred, thanks to our Neoscreen software. The Broadcast scheduling feature allows for a systemetic scheduling of content to exhibit over time, which can include a host of media including text, images and videos.
Neoscreen is the ultimate digital signage software and its power lies in the broadcast software and its ease of use. Dynamic screens, coupled with motion sensors, are able to connect with the users and offer a truly interactive experience. Dynamic communication can be installed on all types of screens and also on touch terminals. Real-time interactivity with users exceeds that of the traditional display beyond comparison. The display adapts during the day to provide information, in real time, such as about the beginning of a conference, the departure of a train, the provision of departures of transport, availability for taking appointment ect …
Internal communication mastered
The digital signage is inviting companies to replace static bulletin boards and is becoming a real interactive communication tool. The digital signage informs employees about the life of the company. It is particularly recommended in break rooms, corridors or production areas. It allows for the display of indicators of production or activity measurement in real time, just like the commercial results, career evolutions, circulation, weather, number of vehicles available for the deliveries … Its limit is your own imagination !
Digital Signage is a connected digital medium that can broadcast social media publications such as Linkedin, Twitter, Facebook or Instagram. The company may also decide to disseminate less institutional information such as weather, traffic, film releases in theaters etc. which can be disseminated among employees.
PACKAGED SOFTWARE FOR BANKING, COMMERCE, Hospitals AND ALL OTHER SECTORS OF DAILY LIFE!
Iagona develops its own business software as well as customer-specific applications and also has its own SCRUTIS fleet supervision solution.
Iagona's solutions are continuously updated according to needs and user feedback.
The ARChe and Neoscan applications, for example, have become references for the digitization of check processing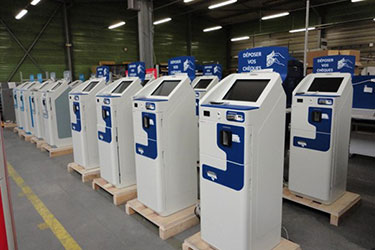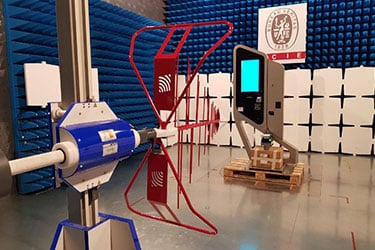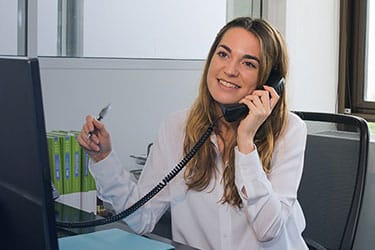 Industry 4.0

The digital age is shaking up industrialisation through innovations linked to the Internet of Things and digital technologies. Iagona has easily taken the bend. Its intelligent solutions are developed with recent and innovative techniques that enable it to meet the most demanding requirements of its customers in the digitisation of their companies or businesses, while at the same time having a large production capacity.
Fully controlled processes right up to commissioning
Flexible production tools allow us to take on all types of mass-production procedures whilst leaving plenty of room for customization.
Each operational module has guaranteed traceability for the whole of its life-cycle. All planning, procurement, design and general procedures are centralized in a single IT system.
Quality control and approval procedures are completed on all of our products before delivery.
Processes and certifications that guarantee you optimal security
All our terminals comply with CE and RED certifications including electromagnetic compatibility and electrical safety tests
These certifications are provided by independent bodies
We carry out our own quality control on our entire product offer
Quality controls take place at all stages of production, from reception of parts to the bookkeeping of machine production before delivery to the customer.
To date we have more than 20,000 deployed solutions with CE certifications
Personalised customer services

A complete range of added-value services
Iagona supports its customers in the installation and commissioning of terminals in branches or retail outlets.
Iagona proposes a complete range of services to guarantee the continued operation of its solutions for the whole of their life-cycle: on-site hardware maintenance, software maintenance, monetary management services, etc.
An approach based on efficiency and CSR
Iagona maintains a high level of service by relying on its historical repair workshop based in Le Creusot, France.
Iagona capitalizes on its in-house expertise to extend the life of our equipment
By offering repair in our workshop, we are committed to a fundamental CSR approach for the valorisation of equipment and the extension of its life span.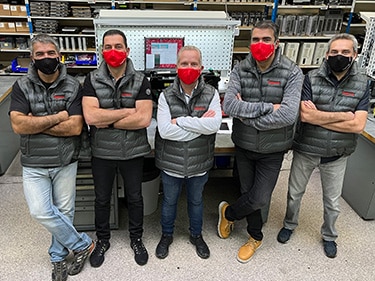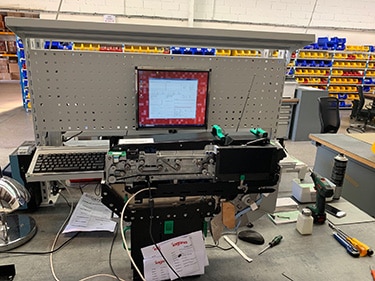 Iagona :
your single point of contact for the implementation and operation of your kiosk projects!