Neoscreen is a digital signage solution, highly scalable and particularly powerful which enables, from an Internet browser, to create, schedule and broadcast your content on a single or several screens.
Neoscreen is a very simple solution for everyone to use : communication team, marketing or digital, even so content manager.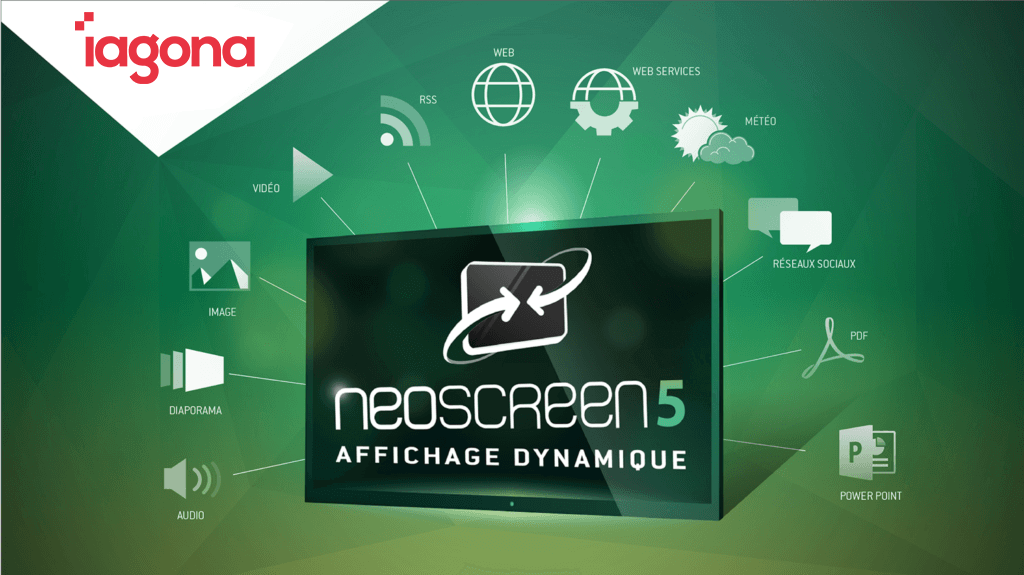 Distribution on all types of screen
Neoscreen is a 100% web application which has been developed and maintained by Iagona's R&D department for the last 15 years. The software has an intuitive interface which can be operated via any web browser. This allows you to broadcast content to a network of screens, totems or terminals regardless of their physical location.
Compatible with all supports

Neoscreen has been designed to operate on a 24/7 basis allowing you to react quickly to the needs of your target public and intervene in real-time. It synchronises data in the Cloud, such that it can be accessed and operated using any computer, PC or Mac, tablet or smartphone.
The special features of Neoscreen
Neoscreen has been developed to bring you all the tools you need for your digital signage from a single web platform. No more need to navigate through your different interfaces to build a digital signage system that reflects your image! Equipped with its integrated creation tool Neomaker, Neoscreen allows you to create your messages at a glance. Discover all the advantages of the software:
Neoscreen integrates a creation tool called Neomaker which allows you to create, in a quick and easy way, your totally personalised animations by combining text, images, videos, widgets and many other elements.
Many appearance and disappearance effects are proposed in order to make your animated messages dynamic and vibrant.
With its connectors, Neomaker also allows you to integrate external information into your presentations (CSV, TXT, XML files or SQL Server, Oracle, MySQL databases…).
Many connected services are at your disposal in the media library in order to broadcast information in real time: RSS feeds, weather, traffic, horoscope, air quality, Twitter, Instagram, Youtube or Facebook videos…








A lot of extensions to the Neoscren software have been developed. Interactive map, dynamic signage, digital restaurant menu, display of your rates and services, digital directory… Offer your customers a 100% digital experience. Discover all our Neoscreen extensions that meet your needs.
Count the number of visitors entering and leaving your establishment in order to regulate the number of visitors.

The Android version of Neoscreen
Neoscreen also exists for Android OS. This version has been specially created by our developers to provide you with the possibility of installing dynamic displays without integrated players allowing you to access our software more economically.
Broadcast your dynamic display content with or without Android player. There are two possible options:
By simply installing the application with an Android monitor you can broadcast your messages

An additional Android player will be installed in the absence of an Android monitor.
The advantages of the Android version
With the Android version of Neoscreen you can directly access the software integrated into your monitor or use an additional android player. You can then manage it remotely from your computer as with a standard license.
The ultimate advantage: the Android version of Neoscreen connects perfectly with the Windows version.
Does your installation already include windows players? You will not need to modify the whole of your installation. Simply install Android players wherever you wish to, and continue to manage the whole of your installation from a single Neoscreen dashboard.
Comparison between Neoscreen Windows and Neoscreen Android
URL with automated identification
Connected messages (weather, horoscope, cinema, social media, ect.)
Office and Adobe documents (Word, Excel, Powerpoint, PDF, ect.)
Unconnected Neomaker messages
Connected Neomaker messages (widgets, BDD connectors, ect.)




(Lecture native)






(Lecture native)


(Conversion)



(Conversion)

Examples of Neoscreen use
Internal corporate communication

Communicate in a dynamic and innovative way to your employees or visitors
Convey your messages easily and efficiently
Enhance the image of your company
Display in store promotions
Inform about the region in the tourist office
Broadcast innovations and novelties in leisure centres
Manage 

advanced

 

access

 

rights

 for all user profiles

 

Quickly

 update 

external

 content online

 

Schedule the broadcast for a 

day

, a 

week

, a 

year

…

 
Install a large number of dedicated real-estate offer software applications
Broadcast 24/7 real-estate offers, one-click updates
Manage key offer data in a dynamically
Create a spectacular presentation by deploying a single video over a number of screens
Combine a number of different sources of information on a single image wall
Increase the impact of your advertising
Reduce perceived waiting times for visitors
Display preventive information
Raise awareness with real-time displays concerning new screening and prevention campaigns

Broadcast of every type of media : photos, videos, PowerPoint, web, pages, Flash
Creation of personalized content thanks to Neomaker
Media Library for content
Planning of the broadcast thanks to a calendar
Management of the broadcast by days
Management of the broadcast on screen networks remotely
Possibility to divide a screen in serveral broadcast areas
Control of video walls
Check in real time the state
Visualize the synchronization of your players
Visualize the current broadcast
Manage the maintenance remotely on your computer park
Broadcast statistics
Administration interface compatible with every browser
Noumerous content included in the media library
(weather, traffic conditions, RSS)
Social network management
Creation of personalized templates thanks to Neomaker
Importation of dynamic contents (databases, Excel, Csv, XmL…)
Broadcast of message banner