CountEx, the people counting solution for your shop!
Since the government announcements, we know that businesses will be able to reopen their doors as long as they have someone at the entrance of the shop to monitor the number of people entering and leaving or install a people counting system.
Iagona has the answer to your needs!

CountEx has been designed to allow you to evaluate visitor numbers. With it you can evaluate your business'total number of entries, regulate visitor numbers and analyse high frequency periods.
CountEx allows you to inform visitors and tell them whether they can enter your premises right away or will have to wait outside for a few minutes. You can indicate your premises maximum capacity, the information can be updated automatically based on the data collected by the people counter sensor.
THE TECHNICAL FEATURES OF THE SENSOR
The sensor implemented in the CountEx offer works with the latest ToF (Time Of Flight*) technology. This technology enables the analysis of the entry and exit of visitors in a surface.
This technology also allows you to install the sensor even if your entrance and exit are in the same place. It will itself analyse the visitor's direction of travel and thus know whether it is an entrance or an exit.
In order to maximise traffic management, the sensor should be installed on the ceiling above your passage areas. The collector covers an area of up to 3.3 m2.
*Time of Flight : a sensor operating on the time-of-flight principle makes it possible to measure a scene in 3 dimensions in real time.
CountEx allows you to couple your sensor to your digital signage. You can thus install monitors near your passage areas to display particular messages.
In this particular period, our developers have created customizable templates that give you the possibility to indicate the number of people present in your establishment. Depending on the information given by the sensor, your screens will automatically update to indicate to your visitors whether they can enter the establishment or whether they have to wait a few moments outside. All you have to do is add the maximum number of people allowed to enter the facility.
You can also set up messages according to your news. Whether you have a promotional offer to highlight, a specific news item for your establishment, or media to launch, they can be triggered when a new visitor enters your establishment.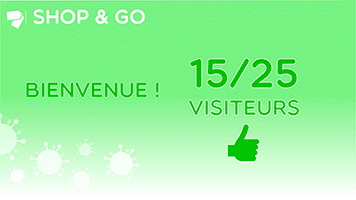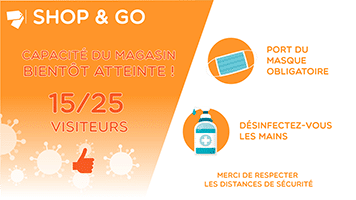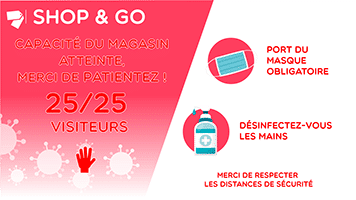 Collected data and analytics
CountEx gives you access to the data collected by the sensor. The sensor works with ToF technology and detects visitors by means of light. No faces are detected. Thus, the data collected only concerns the attendance rate according to the desired periods (time slots, daily, weekly or monthly attendance). This data is accessible directly from the Neoscreen dashboard. They will enable you to adapt your strategy according to the number of visitors and the attendance rate in your establishment.
Housing Material and Color
Infrared Time-of-Flight – Depth Sensor
White PU 8150
Black PU 8150
(extra colors on demand)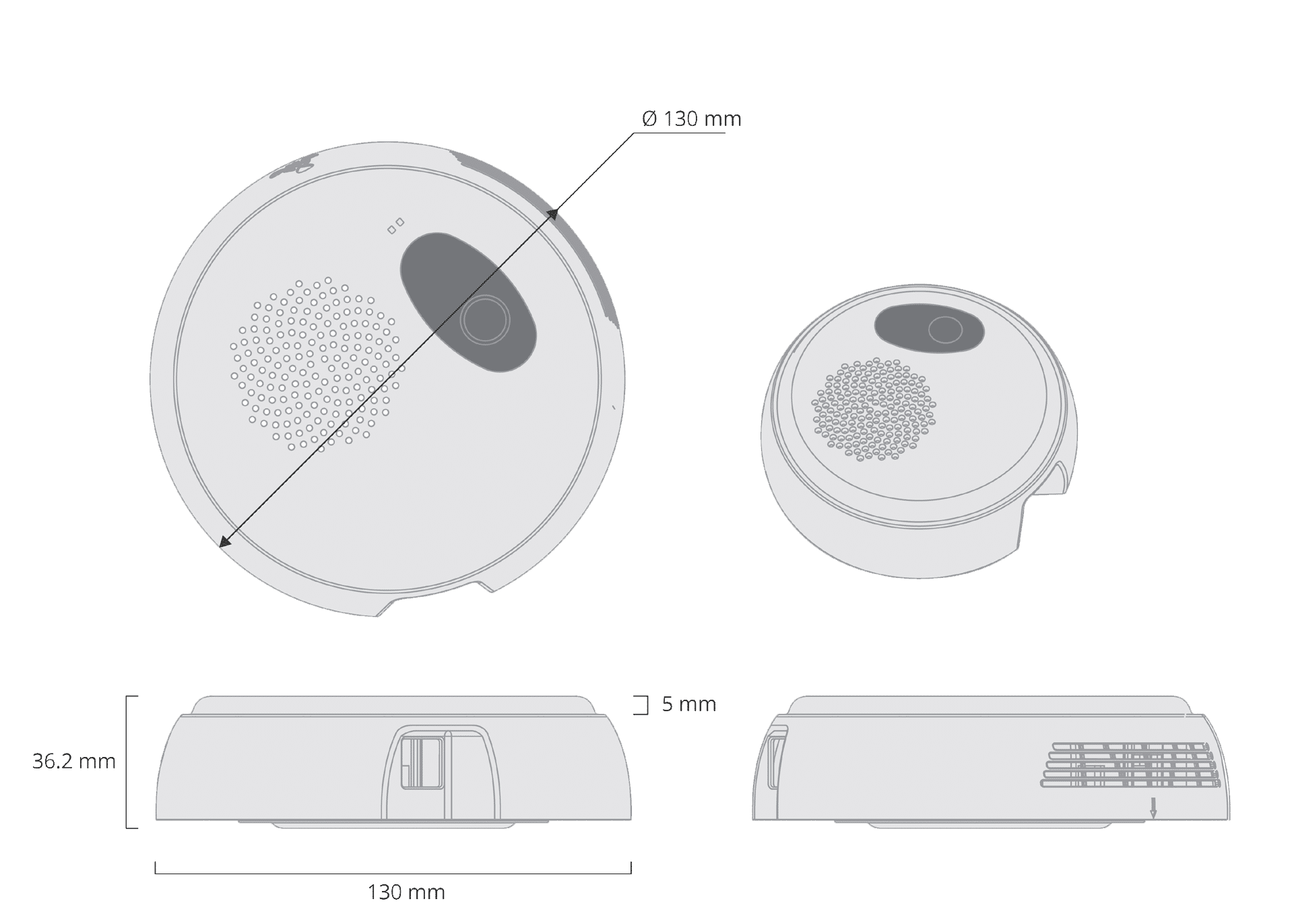 *Counting accuracy is assessed on the total number of entry and exit counts in representative conditions. In very diverse environments, this value may change.
Why should you adopt such a solution?

The ToF technology that allows the sensor to count incoming and outgoing visitors does not perform facial recognition or other distinctive signs. It is natively GDPR*. This allows you to collect data on your establishment's attendance rate without having to declare a database, or having to separately inform your visitors about the installed system. Time saving and simplicity guaranteed!
*General Data Protection Regulation

Current offers on your products may go unnoticed. In order to inform your visitors properly, there is nothing like displaying them on a digital screen as soon as they enter. This way, as soon as the consumer enters, he remembers the products and promotions displayed on the screens.

Providing the best shopping experience for the consumer is essential. To achieve this, it is necessary to let the consumer move around easily, without feeling the slightest stress from the crowds. By offering a dynamic solution you show your proactivity, your control of the situation and you offer a peaceful visit to your establishment.

Analyze the flow of visitors
In a physical establishment, it is often difficult to analyse daily or weekly traffic. It is therefore not easy to establish statistics and to adapt one's strategy according to the traffic. Thanks to the attendance management counter, you can obtain traffic data directly from your dashboard. This makes it easy for you to analyse your visit rate and peak traffic times and thus adapt your sales strategy.

Helping your employees to carry out their tasks
CountEx will save you from having to mobilise staff at the entrance to your establishment in order to monitor the attendance rate. Thanks to the sensor, visitors will regulate themselves. This gives your employees more time to concentrate on the tasks with the highest added value.
A question? Need more information?
Our teams are at your disposal at +33 6 52 07 60 34