A complete range of dynamic display solutions for administrative services
Town-halls, public services or tourist offices: modernise your communication with dynamic displays

Digitalisation is not just for consumers and businesses. Public services, town-halls, tourist offices and even chambers of commerce can and should modernise their operations by using IT tools as a part of their communication.
Communication via dynamic display is a genuine opportunity for public institutions to get noticed and promote their image. This will also allow them to receive the public in the best possible conditions and thus fulfil their primary role as public services: provide services to the general public.
Iagona provides bespoke dynamic display solutions that will perfectly respond to the expectations and needs of public services.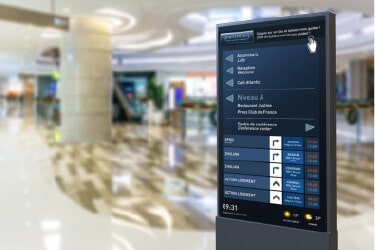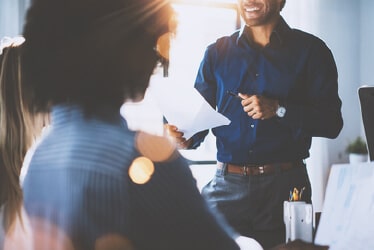 The advantages of dynamic displays for public services
Communication has now become the most important issue at stake for public institutions. What is the best way to make information available, legible and agreeable? Dynamic displays are a very useful communication vector for informing the general public, promoting events, making administrative formalities easier…
Dynamic displays can be used in a number of different ways in public institutions and establishments:
Improve external communication
Inform and entertain your visitors, local population and the general public.
Photos, videos, animations or numbers can be displayed to make waiting lines more efficient. This will also allow you to share important information concerning local news and upcoming events with your local population and visitors. Dynamic displays can be used as a support for official town-hall or public service information as well as being an excellent tool for managing waiting lines.
Create a space for up to date information
Town-halls and public services must provide regularly updated information concerning local activities. This will also strengthen a sense of digital citizenship.
Improve internal communication
Share information with your staff. Keep them informed and up to date on any current changes, objectives, work schedules, local news…
Make relations between public institutions
and the population easier
Redirect people to the right departments
By clearly explaining procedures to be followed and deadlines to be respected, you will be able to make waiting lines more efficient and reduce the number of questions asked of your staff. This will be an incredible gain in efficiency!
Make your communication campaigns
more effective

Strengthen your brand image
and identity

Communication via dynamic display is a good way to strengthen your brand image. Promote your local actions and projects by using dynamic display screens to get your message across.
Communicate more easily
with interactive screens

Dynamic displays are a very useful
communication tool for hotel
or restaurant businesses.
These innovative dynamic display solutions are highly attractive and will contribute to modernising your brand image.
Just as a restaurant cannot just stick to serving meals; a hotel should not just stick to proposing rooms for a night. These hotel and restaurant establishments must seek to offer the best possible customer experience such that customers wish to return and turnover progresses sustainably.