The touch-screen terminal and dynamic display boom
In the restaurant trade, especially the fast food sector, touch-screen order terminals have become a powerful and almost omnipresent digital solution.
Touch-screen order terminals are both easy to use and flexible, they present many advantages for both the customer and the restaurant.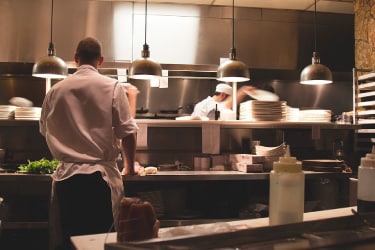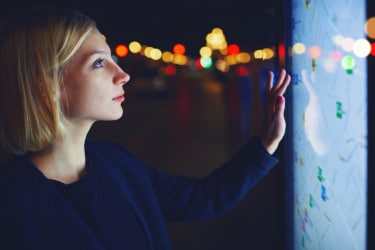 The features of our interactive terminals specially designed for the restaurant trade
Touch-screen ordering terminals can be used to:
Propose a quality service thanks to a personalised ordering experience
Reduce food preparation times
Optimise queues and waiting times
Increase orders and therefore turnover
Stand out from the competition
Make your brand image more dynamic
Optimising the ordering process
The touch-screen ordering terminal is an effective way to present your product offer. The interface makes menus easier to understand. The choice of dishes, beverages and side-orders is image-based. Clients can make their choices or modify them easily. Points of sale have noticed that order entry errors have dropped significantly, processes are optimised and efficiency has increased. All of the terminals are linked up to the cash-register via a dedicated software application and the order is automatically prepared as soon as the customer pays. Restaurant-owners appreciate being able to use the same dedicated software application to immediately update terminals with promotional offers or replacement products if any go out of stock.
Present the latest special offers
Fast-food restaurant managers can present new products along with any currently effective special offers on their touch-screen terminals. Customers see these by simply navigating around the menu. In this way customers can be encouraged to go for a particular dish or special offer and this will have an effect on your turnover. A restaurant touch-screen terminal will allow you to easily implement "push marketing" operations such as "Add a dessert or a beverage for just €1" type offers.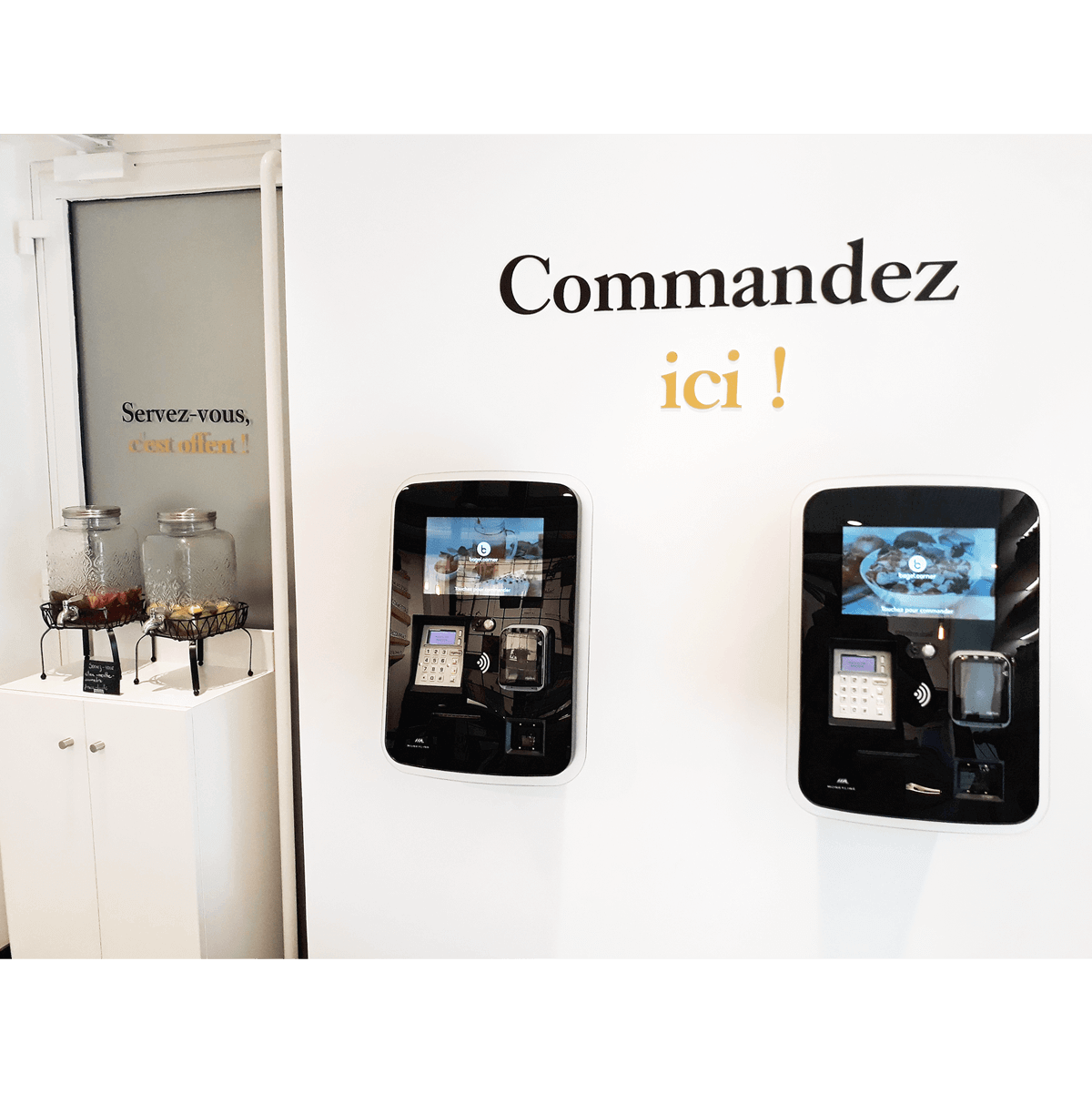 The advantages of touch-screen terminals for the restaurant trade
Personalise the customer experience
Touch-screen terminals have ergonomically designed interfaces which encourage interaction with customers. They can personalise their orders (sauces, side-orders or special ingredients). Customer loyalty programs can be used to save order profiles and reward customer loyalty.
Touch-screen terminals can save a considerable amount of time for customers. Every stage of interaction with the interface has been optimised, right through from product selection to payment. Point of sale staff can therefore be more available to prepare the orders and customer flows within the restaurant will be more fluid.
Strengthen your brand image
Customers read advertising messages displayed during the order process more easily. As well as menus, the screen can communicate and strengthen your restaurant's intrinsic values. Earning the trust of your customers and showing your transparency is primordial. With these terminals you can display the origins of your products and the presence of any allergens (this has been a legal obligation since 2015) And you can also choose to specifically indicate which dishes are vegetarian, vegan or gluten-free, etc.
Find out more about the MK-Evo terminal
Touch-screen terminals save a considerable amount of time for customers as well as optimising staff efficiency!
The customer makes their order and pays for it directly with the terminal, they can then go and pick up their order or eat-in. Ordering and payment queues are thus reduced and customer flow within the restaurant will be more fluid!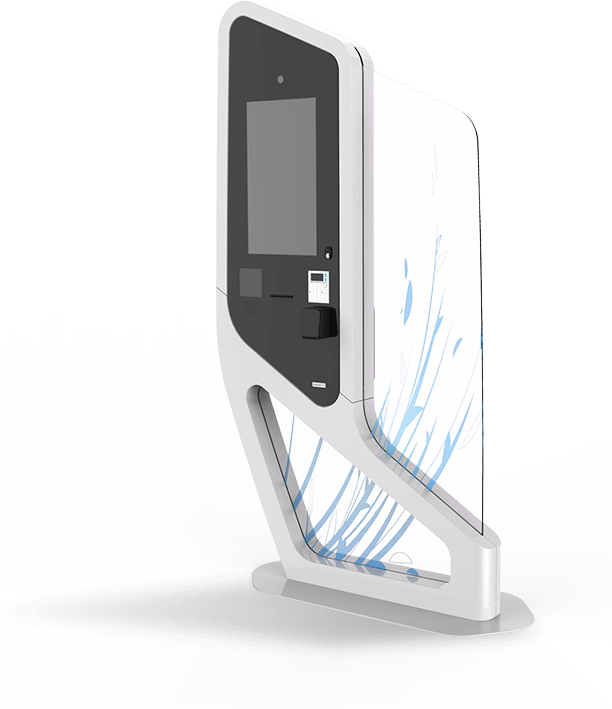 A complete range of dynamic display solutions for the restaurant trade
Dynamic display solutions can attract and maintain customer loyalty, increase sales and provide a better customer experience. These digital solutions will keep your fast-food or pub-food establishment up to date.
Why should you go for a dynamic display solution for your restaurant?
Each Iagona dynamic display solution is the fruit of a profound conceptual process through which we seek to comprehend your expectations and needs to provide you with a reliable and complete dynamic solution. To achieve this, it must fulfil a large number of missions:
Give them an appetite! Increase your chances of becoming THE reference for your customers by communicating about your menus and house specialities, guiding customers and sharing useful information. Dynamic displays will improve your image.

It is a good idea to be able to promote and highlight your offer if you want to attract new clients and increase your sales. The best way to achieve your objectives could be to display your restaurant's menu or opening hours, share photos or present other additional services that you propose.
Build up your relations with your customers! Encourage your customers to stay informed about your activities and cultivate your on-line communities on social media. Incite them to share their feedback or photos of their experience.
Return the magic to the customer experience
Dynamic displays can allow you to meet the expectations of your customers at any time. Using dynamic displays to show local tourist and cultural information will contribute to improving the customer experience without the need for additional staff.
Communicate more easily with interactive screens
Dynamic displays are a useful communication tool for restaurant businesses. These innovative dynamic display solutions are highly attractive and will contribute to modernising your brand image.
Just as a hotel can't just propose rooms for a night, a restaurant can't just restrict itself to serving food. These establishments must seek to offer the best possible customer experience such that customers wish to return, and the result will be a sustainable increase in turnover.
The functions of our dynamic display software that are best suited for your restaurant