Giant LED Screens
Indoor and outdoor use possible and effective in all circumstances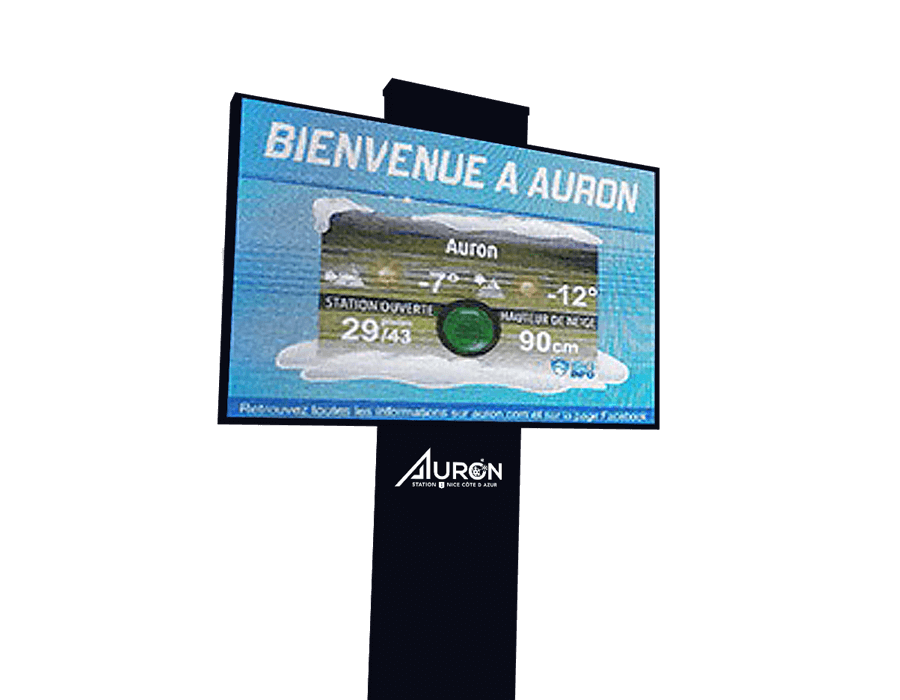 Communicate, yes, but not with just any billboard! To set up a visual communication that reflects your brand image, rely on the reactivity, flexibility, ergonomics, high brightness and high definition of our giant LED screen.
Using the latest LED technology, our light panel will bring real added value to your production thanks to the large size of the screen and its exceptional light intensity.
Our display solution allows you to successfully display your messages and information in a very wide viewing angle.
Giant outdoor LED display: unique design and enhanced functionality for a successful LED display
Do you want to communicate 24/7 outdoors?
Our screens with interactive LED panels provide the best visibility outdoors. You can use our high contrast video screen on the front of a company, shopping centre, showroom or sales outlet as well as outdoors on the street or at an exhibition centre.
Our giant LED screen will be the best ambassador of your communication wherever you decide to place it.
Designed for outdoor use, our outdoor LED displays are of course waterproof and thermostatically controlled, and the high-brightness digital displays can operate in temperatures ranging from -20°C to +50°C.
The transflective and glare-free technology of this high-resolution LED light display ensures a crystal-clear image, even in bright sunlight and daylight. Your advertising display benefits from intense LED illumination that is suitable for indoor and outdoor use.
LED projection screen: a wide range of uses for a successful audiovisual project
City centre areas: our large format advertising screen sits elegantly in city centre areas to give you a quality Full-HD broadcast, without increasing your power consumption.
Exhibitions: take advantage of the high definition of our large screen to highlight the facades of your cultural spaces to attract the attention of visitors. Our outdoor LED panel will make your traditional posters dynamic
Stadiums: use our LED wall to broadcast images of all your matches simultaneously.
Concerts: for the transmission of your shows, install our ultra-high resolution LED panels for the greatest pleasure of the eyes.
Innovative and complete functionalities for a varied and ergonomic use
4 billion colours
4 to 16mm Pitch
LED DIP or SMD
Up to 160 m²
IP65 front panel, IP54 rear side
6000 cd/m² luminosity
View angle of 160°
Operates in temperatures from -20° to +50°