Iagona supports you from start to finish on your digital signage project – from your choice of Neoscreen licence to your display equipment.
We offer you products which are adapted to your digital signage, are easy to use, and point your target customers to the right information.
Coupled with the right display medium, your digital signage messages will offer your audience an optimal experience.
Whether you need a reception desk, an information panel or an information desk, or a digital totem to provide information, all our products will meet your requirements!
The different types of digital signage
Each installation is different. What's special about digital signage is that it adapts to your needs. Whether you have a restaurant to promote, a point of sale to animate or a hotel to digitise, digital signage provides you with flexible communication!
All our products fit perfectly with our digital signage software. The question is: what do you need it for? Depending on your target customers, our products can be adapted.
The totems lets you display your offers, guide your customers around your store thanks to the digital signage, or inform them through the use of animated messages.
Use our interactive terminals to display your restaurant menus or show an interactive map to help customers find their way more easily.
Our Neobox players allow you to connect your screens to our Neoscreen digital signage software, making your global communication the same.
Our display media: from our monitors to mounting brackets, giant LED screens and video walls, choose the display media that best suits your reception area.
The benefits of our digital signage products

Inform your current and prospective customers
Digital signage allows you to display all your messages in real time. Installing screens and monitors in strategic passing points or places that can cause stress and annoyance (such as waiting rooms and checkout queues) makes your customers feel less like they're waiting while entertaining them. Customers will be more receptive to the messages broadcasted thanks to the animation on display.
Attract attention with digital signage.

By installing digital signage screens in your points of sale as well as in your windows, you draw the consumer's eye to your offers. More dynamic than information posters, they will increase the visibility of your products and services. Moreover, digital signage lets you create animated messages, which stand out more for consumers and inform them in no time about offers and promotions.
Improve your sales and customer loyalty!

Guide and accompany your customers
Installing a desk at the entrance of your reception area helps your customers to get their bearings thanks to an interactive map or to register for an appointment using a digital directory. That way you avoid disappointing your customers from the start. A totem pole placed in the various passing points will guide them thanks to the digital signage and provide reference points.
Moreover, when organising events, digital signage allows you to easily indicate the rooms where each event, conference or workshop is being held. Highlight each event with animation features.

You can also set up digital signage screens in companies, local authorities or educational institutions. These screens will have the advantage of disseminating the latest messages in real time. Welcome your customers passing by thanks to digital signage, and inform your employees of the latest company news and successful projects. You can also unite teams thanks to internal events.
The benefits of our products
Indoor monitors allow you to broadcast information and news for better entertainment.
Giant LED screens are ideal for both indoor and outdoor communication. With a good level of brightness, they are a good way to get your customers' attention.
Totems inform and guide your customers with ease.
Interactive terminals offer you the chance to establish a connection with your customers.
The benefits of digital signage
Update in real time messages to be shown: an undeniable time-saver.
Programme remote playlists to inform and entertain according to the time of day, week or month.
Simplify your communication.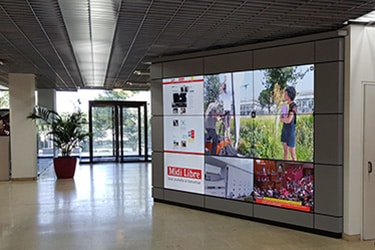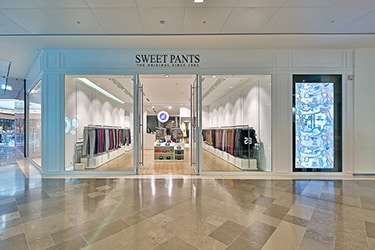 Digital signage is perfectly suited to internal communication (in companies and factories) and external communication (in restaurants, shops and hotels etc.). Depending on your preferred use, it has many advantages.
Reduce your paper printouts: information messages for employees will be displayed directly on the screens.

Announce upcoming company events to employees.

Make your workers aware of the required safety rules.

Display key monitoring indicators.




Communicate new arrivals in your company.

Publish your key figures (e.g. number of days without incidents, production indicators etc.).

Establish a connection between your different production sites to bring your teams closer together.

Circulate monthly or annual objectives to motivate your employees.
Reduce your paper posters: special offers, new products or your opening hours can be displayed on your dissemination media./li>
Inform customers about your new product ranges.
Entertain customers in queues.
Give advice about your products.
Provide information about current legislation.
Disseminate prevention campaigns.
Display national and international news.
Inform customers of tourist visits in the region.
Do you have any questions? See our Q&A.
Do you have any further questions or would you like a quote for a project? Please contact us!