Besson Chaussures equips itself with Philips video walls thanks to Iagona.
Digitisation is increasingly attracting companies looking to modernise by incorporating digital signage into their communication. For businesses, communication through digital signage is a real opportunity to be noticed and enhance their image. It also lets them welcome customers in better conditions while offering them a unique experience.
Iagona implements tailor-made digital signage software solutions for businesses to perfectly meet their expectations and requirements.
The Besson Chaussures Group chooses digital signage to increase its visibility.
Expertise focused on your expectations
Besson Chaussures is a company which specialises in the sale of shoes and was created in 1982. The Besson brothers sold their shoes at the markets before opening their first shops.
The success of their concept attracted several brands such as Adidas, Asics, Dockers, Ipanema and Geox among others and became popular with consumers. In 1998, the company was sold to the Vivarte Group and joined the brands La Halle, Minelli, Caroll and San Marina.
Besson Chaussures chose to install in its 149 shops Philips 45- and 75-inch screens on the shop floor and behind the checkouts.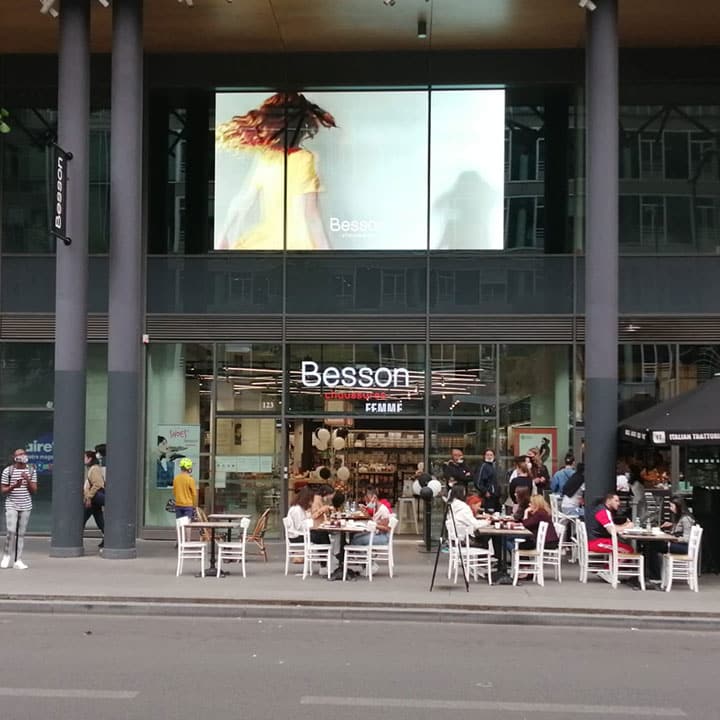 Digitising the points of sale
Besson Chaussures not only wanted to launch a new shop design but also to communicate more effectively. The digitisation of its points of sale was to undergird the modernisation of its image.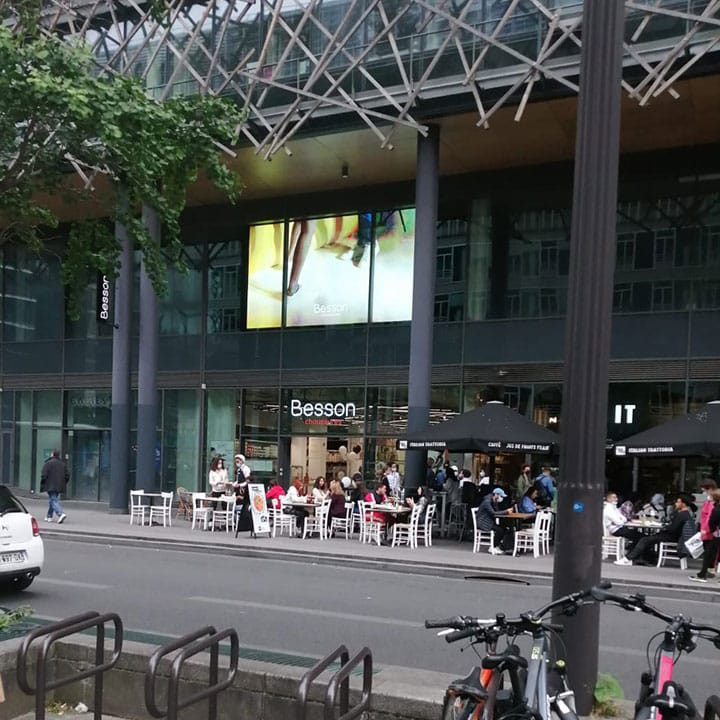 To meet Besson Chaussures' requirements, Iagona proposed a digital layout including video walls on the shop floor and behind the checkouts. This allowed them to effectively communicate the offer and provide engaging media. Furthermore, Iagona organised the deployment and installations of all Besson sites.
Besson Chaussures has taken advantage of the new digital devices to offer its customers an original and dynamic means of communication. This high-impact visuals of the sales areas were made possible by Neoscreen, Iagona's digital signage software.
Thanks to the broadcasting screens, Besson Chaussures has not only benefited from greater visibility for its product range but also from dedicated spaces to broadcast its promotional campaigns.
For your information, Besson Chaussures has chosen to replace all existing screens in its current network with the latest generation of Philips screens.

We needed a digital signage solution which was as extraordinary as the collections we sell, and Iagona made that happen.
Audrey Barat