Advantages of a control terminal for restoration
On the occasion of Sirha 2019 in Lyon (International Hotel, Restaurant and Food Trade Exhibition), each player in the restaurant and catering industry or equipment suppliers are invited to meet to share the latest culinary innovations and technological solutions for the benefit of this sector. Iagona touch terminals will be present during this event which attracts professionals from all over the world. Indeed, the company specializing in interactive kiosks is working to find innovative solutions to energize food service spaces.
Why install a control terminal in a restaurant?
Between January 26 and January 30, 2019, visitors to Sirha will be able to discover the latest Iagona innovations. By teaming up with its partner Innovorder, a specialist in software solutions for the food service industry, Iagona is making a name for itself. But what are the latest innovations to discover?
Thanks to its experience in the restaurant and hotel sector, Iagona knows that restaurateurs have specific needs and that a touch control terminal can be used in many restaurants.
Here are the various advantages of equipping a restaurant with a touch control terminal:
Optimize order management and restaurant productivity
While customers independently order their meals, staff can focus on preparing orders and delivering them to customers. By concentrating on this task, the restaurant becomes more efficient and the service is of much better quality. Staff can focus on the more complex tasks.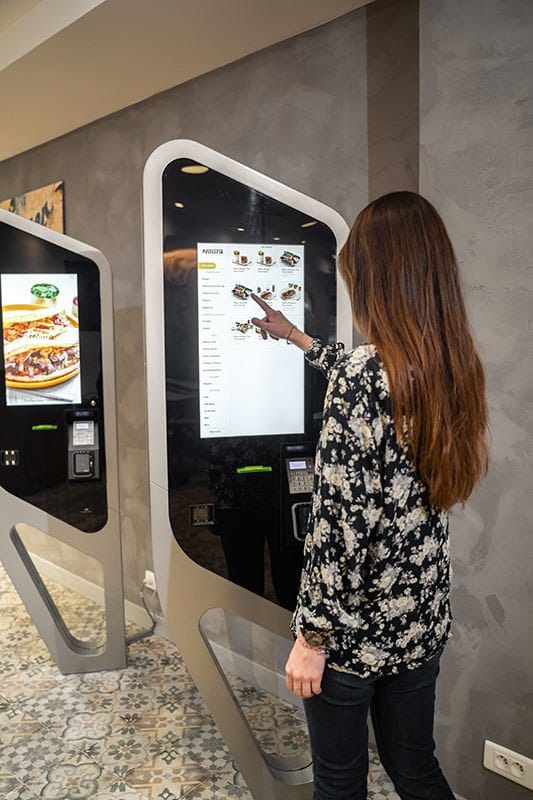 Minimize waiting at the checkout
More staff in order picking will also reduce the waiting time at the checkout. When you know that some food service outlets make more than 80% of their turnover in just 2 hours, it is impossible to let customers leave because the wait is too long.
Limit human error in order taking
Along with haste and fatigue, human errors exist especially at the order taking stage. Between order taking, collection, order picking or even the creation of a loyalty card, small errors can occur. A touch-sensitive restaurant control terminal will take care of order taking and customer changes as well as checkout without any problems!
Increase the average basket
By means of control via a touch-sensitive terminal, it is possible to configure the terminal to offer additional products to the current order. A dessert in addition to a menu? A pastry with a hot drink? A supplement with a dish? All these proposals allow to increase the average basket and maximize the sales of a restaurant. A 25% increase in the average basket has been observed in points of sale equipped with payment terminals.
Sending the order form to the kitchen
Immediate dispatch to reduce waiting times and have a better fluidity in the preparation of orders.
Take advantage of a communication support
A touch control terminal can also be used to broadcast advertising messages, announcements, events, promotions, etc. Within your establishment, you can revitalize your signage and modernize your sales space while promoting sales.
Discover Iagona's latest touch control kiosks and take advantage of the many benefits of these digital solutions designed to build customer loyalty, facilitate operational management and maximize your restaurant's revenues!
Check out our other articles