Digital signage hardware and software solutions
Gain visibility!
You want to revitalize a sales space or a reception area? You are looking for a digital signage solution … Iagona is now able to offer you the best of digital signage thanks to the acquisition of Cube Digital Media, the inventor of Neoscreen, the most powerful digital signage software on the market. Discover how we can help you gain visibility with our hardware and software solutions.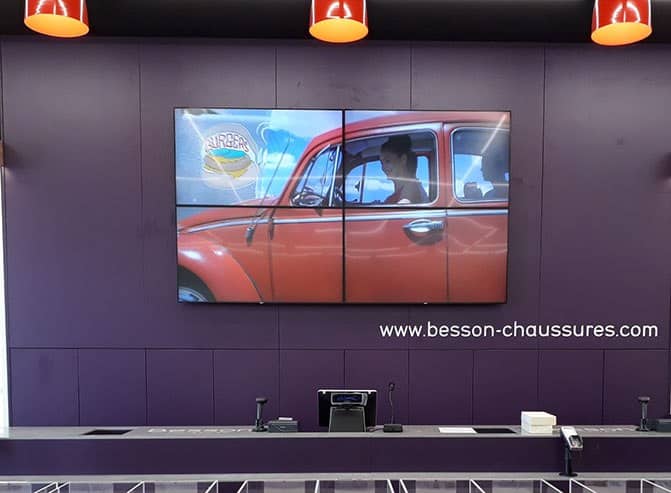 Why equip yourself with a digital signage solution?
In an economic situation where digital is ubiquitous, it is essential to create a new atmosphere, a new dynamic in the physical points of sale. Offering a new customer experience means attracting a larger and more loyal audience! A screen, a totem pole or a touch terminal can be used as a dynamic display to show messages, photos, videos or business applications.
What are the advantages of using a digital signage screen?
Increase in-store traffic
Digital signage will allow to gain visibility because it will catch the eye of the consumer. Dynamic images and videos capture the attention and incite them to visit a store or enter the exhibition area. More than 8 out of 10 French people say that screens arouse their curiosity and encourage them to push the door. This is particularly the case when the digital signage screens are present in the windows.
Increase the average basket and sales in general
The attention of customers or visitors is paramount. A message broadcast on a screen or touch terminal is twice as well retained as a traditional display message. This visibility notably explains why stores equipped with touch terminals see their sales increase by 25% on average!
Gain flexibility and freedom
Put an end to traditional poster orders and wasted time to change them in your store or window display. With digital signage, it's easy to change messages, teasers or promotions based on the calendar and your activity. It is also possible to correct messages in a few seconds! If you are tired of printed posters, digital signage is the solution that will allow you to animate your store with dynamic and engaging content.
Improve customer's experience
A digital kiosk or a digital signage totem pole can be a real sales support. The customer can navigate on the interface while waiting for a salesman to free himself or even take note of additional information. You make the waiting more pleasant and gain in efficiency when the salesmen are busy! This is a positive point for building customer loyalty!
Trust Iagona, specialist in digital solutions and interactive kiosks to offer you digital signage adapted to your activity. Finding the right support means modernizing your sales space and improving your customer experience!
Check out our other articles