Dynamic display in bank branches
Interactive touch kiosks for the banking sector
Reinvent the customer experience!
Faced with online banking where everything is dematerialized and fast, physical bank branches have to reinvent themselves and think of a new experience each time they visit a branch. Improving the customer experience in the banking sector also requires the digitalization of this reception and advice area where each customer must feel listened to and secure.
Digital signage is a very interesting solution for bank branches looking to satisfy their customers by giving them access to interactive content when they visit the branch. As a manufacturer of innovative digital kiosks and digital signage solutions on desks, touch tables and of course screens, Iagona helps banks recommend solutions to improve the customer experience. Our digital signage software Neoscreen will be the conductor of your broadcasts on all the screens of your agency.
Is it necessary to introduce digital signage in banks?
Already present in most public spaces (shopping mall, store, restaurant, post office, train station, administration…), digital signage screens allow to reconnect with customers. A multi-channel customer relationship strategy allows to communicate with customers when they are receptive. So why not push the doors of banking establishments?
To revolutionize the banking sector, liven up your reception areas and reconnect with a close relationship, it is time to install digital signage screens in your branches.
Communicating on your brand
Digital signage allows you to optimize your communication and the diffusion of your campaigns by using all the screens available whether they are on a vending machine, a kiosk or simply hung on a wall.  Thanks to a simplified content management, the digital signage software will allow you to easily program the diffusion of images, animation or promotional videos. You will be able to communicate on your banking products, your image or your local news.
Interact with your customers
The main advantage of digital signage is that it brings you closer to your customers and allows you to improve your goodwill. Digital signage allows you to communicate on modern and interactive media.
The messages are animated and much more striking than on a brochure. By broadcasting news on your screens you become local, you get closer to the concerns of your customers and you return to a local banking service.
Improve a bank's brand image
Digital signage screens are a good way to acquire a more modern and connected brand image. Consumers are very sensitive to digital communication because it is dynamic and engaging.
The contents are no longer limited to static text but use all available formats whether video, graphic or animated.
Help with sales and reception
Digital signage is not only useful to improve your customers' expectations. It is also an excellent salesman who will promote your banking products on a more engaging mode of communication.
Digital supports your environmental commitment
Digital signage allows you to say goodbye to the dozens of printed posters that used to support static communication. Apart from the lack of reactivity of printed communication, the transition to digital signage supports your environmental commitment.
More impacting for your customers and less destructive for the environment.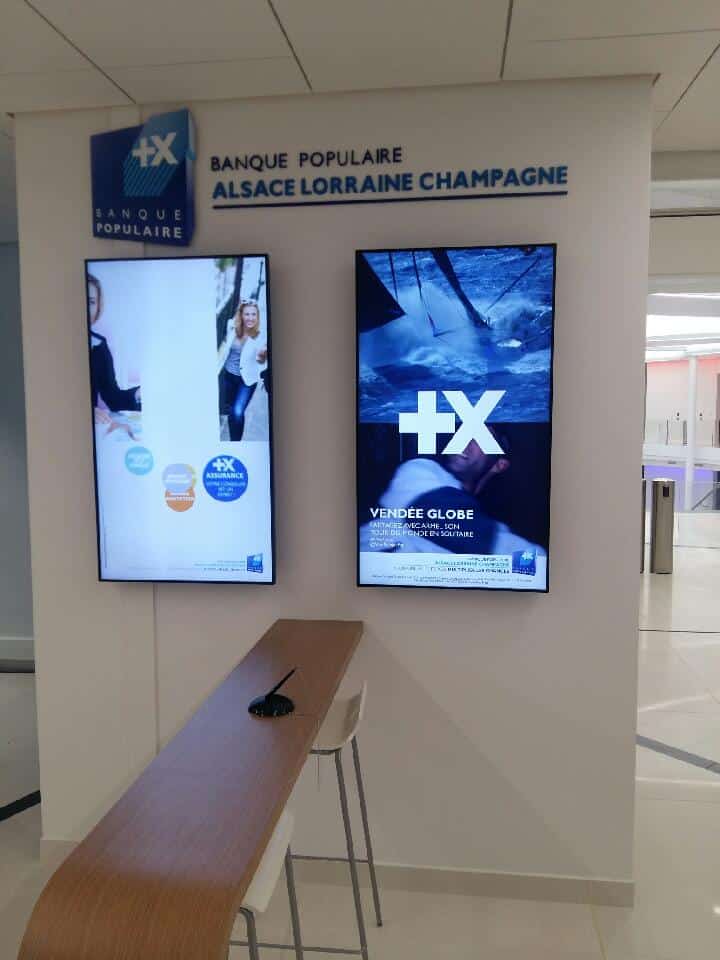 To modernize your banking establishment and better welcome your customers, Iagona offers tailor-made digital signage solutions for bank branches!
Check out our other articles