DIGITAL SIGNAGE IN THE BANKING SECTOR
Dynamic display:

strengthening the relationship of trust



More than ever, we have a fundamental need for coherence, meaning and mutual aid. All this in a relationship of absolute trust. Entrusting one's money to a bank is not insignificant, especially in a highly uncertain economic and financial context. Digitalization comes at the right time to bring high and clear the human and professional values of your bank agency to customers looking for listening and security.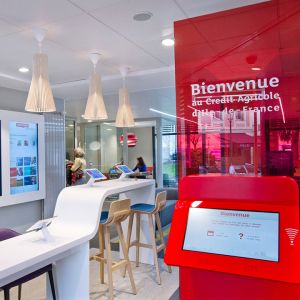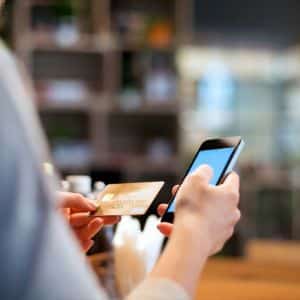 Digital signage in banks: 4 strong points to exploit
Reconnect with a local banking service
Searching for the optimization of the customer journey – efficiency, speed, reliability – starts at the reception area of your bank branch.
Our MK Desk digital kiosk contributes to a better management of the flows by a targeted support. The MK Desk kiosk qualifies the needs of customers and visitors upstream. Our software interfaces with the agendas of your advisers in real time and informs them of the arrival of their appointments. The support is assigned according to the needs of your visitor. Customer waiting time is reduced and the agenda of your employees is optimized.
Proximity at a click's reach
Withdrawal and deposit of cash, delivery of checks, printing of bank statements no longer require the intervention of an advisor because our interactive terminals have intuitive interfaces designed to adapt to all customers.
Our digital solutions accompany you on a daily basis
Creativity brings solutions. Contact us to tell us about your project!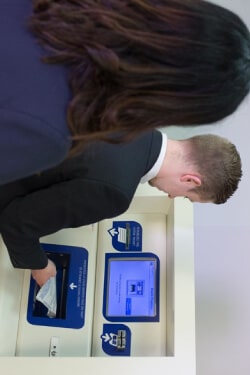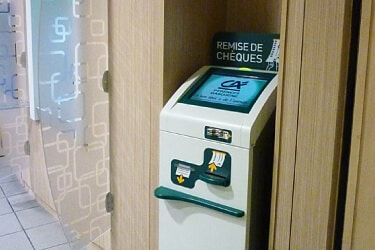 Doubly connected to your customers
Connected during face-to-face meetings and via the broadcasting of your campaigns on the screens available in your agency, on an automaton, a reception desk or hung on a wall.
Thanks to a simplified management, Neoscreen 5.0, our intuitive software, creates, programs and broadcasts your content on one or more screens.
Your mission:

Conceive communication campaigns with chiselled content to set you apart
Evolve your messages in real time from any computer or tablet
Manage your content, customize it and control it remotely
Define a group communication and/or a local communication, specific to your agency
Define privacy settings and user rights
Omnipresent for a few years and in the heart of a flourishing market, digital signage screens facilitate communication, for internal use to motivate your teams and in agencies, in real time and intuitively to your customers.
The bank wants to be modern and connected. Adopt a digital signage solution to simplify and facilitate the steps of your customers and enjoy a quality time to discuss their financial issues.
Our indoor and outdoor LED monitors will highlight your products and services. The new technologies and their interactive media multiply the strength of the messages conveyed.
Will be highlighted :
Your banking products
Your financial and patrimonial advice
Your corporate values, your assets, your uniqueness
Your website, your social networks
Your offers/current news
More than 30 years of expertise in the banking sector
Cheque remittance kiosks – PAllowing advisors to focus on customer relations by digitizing low value-added transactions is part of our mission. To date, our check deposit kiosks have processed more than 200 million checks! Intuitive solutions that are powerful and reassuring for your customers.
Declarative cash deposit machines – Fast and secure transactions thanks to our ADD that fits most branch safes. Moreover, thanks to the Scrutis supervision tool, it is possible to know at any time the status and the operations carried out.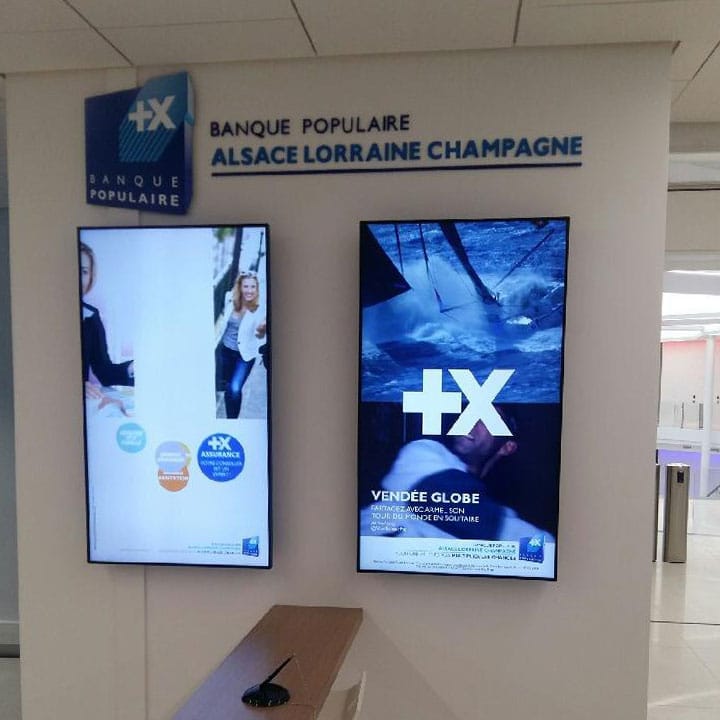 Discover some of our case studies
Our previous articles on the banking sector
Check out our other articles