DIGITAL SIGNAGE IN COMMERCE – RETAIL
Dynamic signage

a lever for reinventing business



At this special end of the year, the reopening of the shops at the approach of the holidays comes as a relief. To stop the pandemic, it is accompanied by strict sanitary measures -which we have become accustomed to- among which the wearing of masks, the use of hydro alcoholic gel and physical distancing. But that's not all…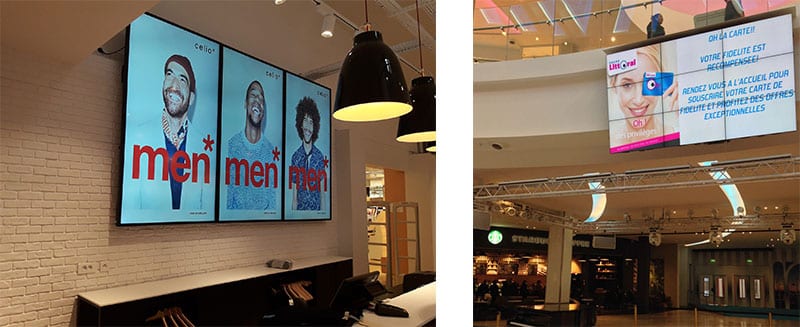 Digital signage in your business: 5 strong points to exploit
In each point of sale, the number of customers should be limited by respecting an area of 8m2 per person. If it is easy to count customers in a small shop, it is quite different for signs, supermarkets and large surfaces.
This is where digital service comes in with our CountEx software that counts your customers' entries and exits.
Currently essential to meet health standards, it is also and above all a guarantee of safety for your establishment receiving the public.
CountEx, technology you can count on!
Natively RGPD, equipped with Time-of-Flight technology, 98% reliability. A 3 in 1 offer: attendance management, analytical data management and digital signage, because CountEx allows you to couple your sensor to your digital signage.
Our developers have created customizable templates to indicate the number of people present in your establishment. Based on the information given by the sensor, your screens will automatically update, indicating to your visitors whether they can enter or whether they have to wait a few moments outside, depending on the maximum number of people allowed to enter the establishment.
It is possible to set up messages according to your news. A promotional offer, news specific to your establishment, media to launch, they can be triggered as soon as a new visitor enters.

From constraint comes creativity
COVID-19 has made a real difference in all areas. New sales channels are being promoted, such as telephone and computer purchases, which have surged since the first lockdown.
Many small retailers and large chains are redoubling their ingenuity to propose new offers and services to keep their business going, particularly via click & collect and home delivery. Sarenza and Monoprix have created a partnership in this respect.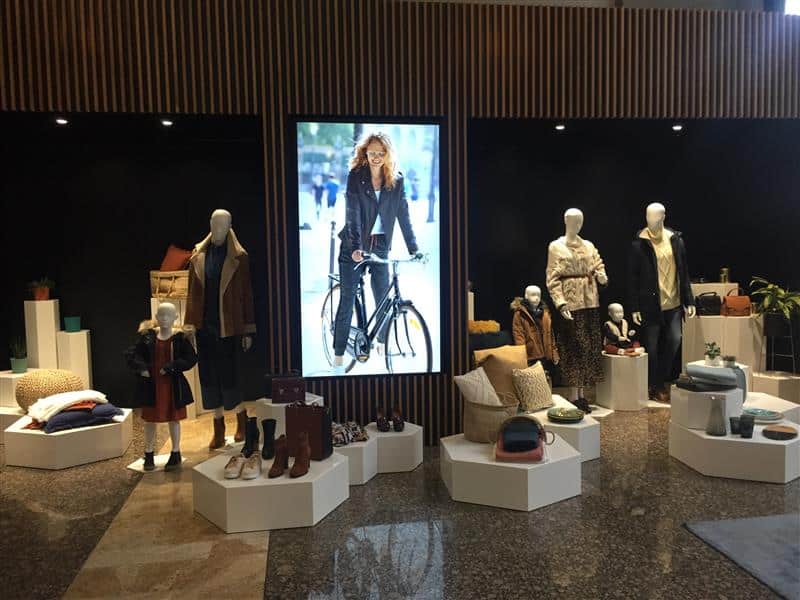 Together, let's reinvent business!
Consumers are finally back in stores, it's time to take advantage of this key moment, to pamper them and surprise them.
DIGITALIZATION OF THE BESSON CHAUSSURES BRAND
We worked in partnership with Philips to digitize the Besson brand. 149 stores equipped with Philips 45″ and 75″ screen walls installed on the sales area and behind the checkouts.
With frequent collection turnover and numerous references, the request was for the ability to update the content easily and quickly and to be able to do so remotely for greater efficiency.
With these new digital signage devices, Besson transforms its points of sale into a resolutely modern environment, with an optimal enhancement of its products.
Your challenge is our challenge
That's why we are listening to you and offer you a dedicated digital signage software.
As a communication tool, sales support and assistance for the customer, digital signage intervenes throughout the customer's journey to make their visit to the store a privileged moment of exchange and relaxation.
The case of the "Grand Littoral" shopping center
We made a customer report on the "Grand Littoral" of Marseille, the largest shopping center in the PACA region, which chose our digital signage to increase its visibility.
With more than 12 million visitors per year, the "Grand Littoral" gives visibility to advertisers and partners.
Discover the advantages of digital signage in the retail sector
Attract and retain customers in store
Immerse the customer in the world of your brand
Energize your store and boost your sales
Highlight your promotions and new products
Reinventing the Digital Shopping Experience
Exploiting the synergy between mobile and touch kiosks
Find out more about Audio Sector Watch – New trends in retail
Discover some of the innovations presented during the Paris Retail Week Live & Connect on September 17th.
Check out our other articles