JEWELLERS, YOUR "DIGITAL JEWELRY BOXES" ARE DISPLAYED IN A SHOWCASE
Digital signage, a mirror of luxury and know-how
There are… The pandemic, of course, the slowdown in the world economy, the free fall of in-store shopping, low morale, and a lack of confidence – autumn is not the only one to blame – but should we admit defeat and close up store?

No! because beyond this gray-tinted painting, there is the chiselled material, the color, the love of beauty, the pleasure of offering a jewel, an eternal diamond or gem, like a masterpiece that only asks to shine a thousand times, on the finger, the neck, the wrist of the loved one.
Say yes! to digital signage in jewelry stores
Lesson #1 – Seducing – A screen in a shop window to catch the eye of loiterers
Media report says it all: a window display generates 10 times more eye contact than a traditional shop window. Its attractiveness increases by +15% and customer traffic by +30%.
Make our digital signage solutions your ambassadors to attract customers in store and put the ring on their finger.
Neoscreen 5.0, our intuitive software, creates, programs and broadcasts content on one or more screens, even a video wall. Infinitely expandable, we have been constantly developing it for more than fifteen years.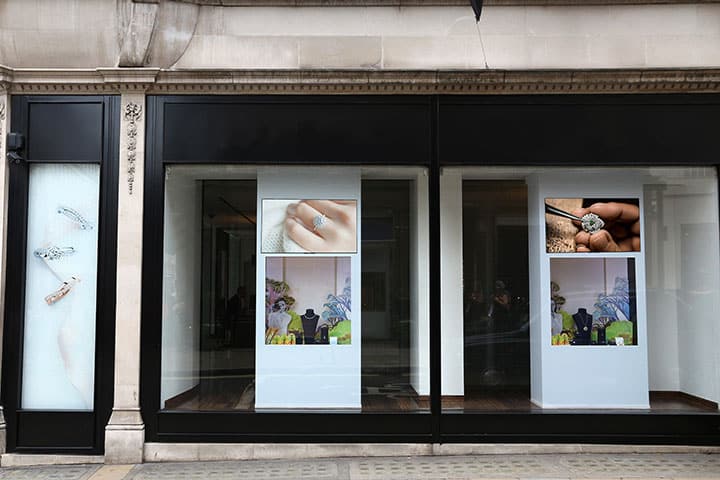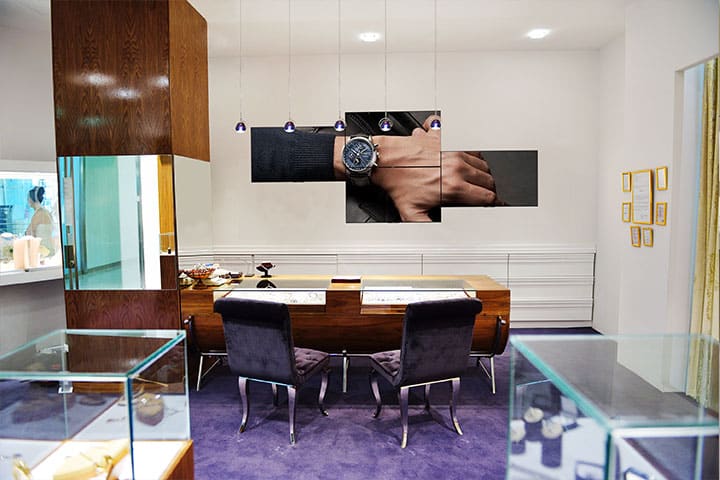 Lesson #2 – Creating intimacy by revealing your brand story
There is of course storytelling to illustrate the birth of the brand, its milestones, its know-how, its values, its authenticity. Our consumption patterns are changing and buyers are also curious to know the history of the products they buy.
How was this watch made, according to what criteria of quality and ethics, where do the stones of this ring come from, the subjects of questioning and therefore of communication are infinite.
Lesson #3 – Re-enchanting the in-store experience
There is no doubt that online shopping is taking over the diamond market. However, nothing beats the experience in the store and the human contact.
Entering a boutique, and even more so in a jewelry store, is to discover a hushed and enveloping universe, to take advantage of sound advice, to touch the product with your eyes before trying it on… Then let the charm operate and succumb to temptation.
Do you have a specific need? We are at your disposal to personalize your project.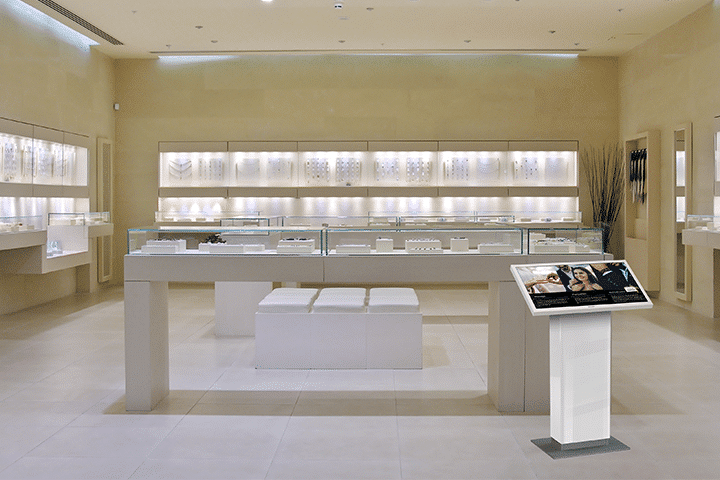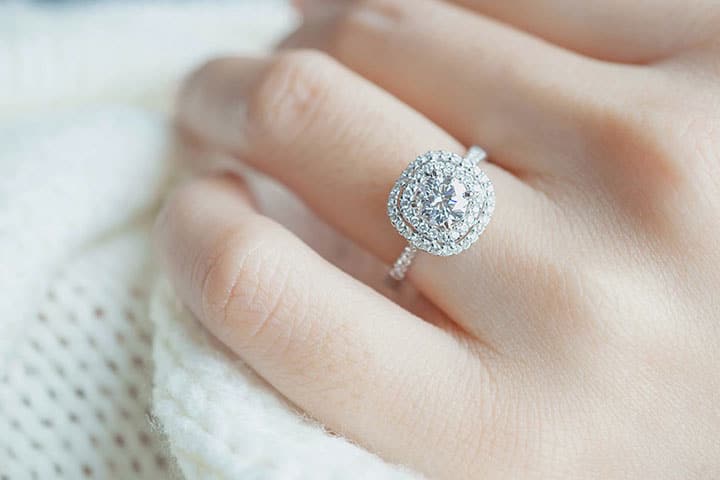 Lesson #4 – Protecting Your Exceptional Pieces
The value of some parts is such that they require flawless protection while remaining visible.
How can you do this? By bringing them to life via digital signage, by presenting them on elegant touch-sensitive shelves or on our indoor interactive terminals.
Whatever the configuration of your point of sale, we have the perfect digital display case that will magnify your jewelry, watches, and clock products. Tell us about your brilliant project!

Iagona products are made in France and meet CE standards. To date, more than 24,000 solutions (dynamic displays and interactive kiosks) have been deployed. We provide installation and maintenance and have a dedicated team of more than 400 technicians ready to intervene at your point of sale.
Interfacing with your management software by our developers
Own delivery, commissioning and training service
Embedded software for remote maintenance
Hotline based in France and expert technicians
Repair shop for hardware maintenance
Check out our other articles