The Air France KLM Group makes available to its passengers
a digital kiosk for the payment of excess baggage
The Air France KLM group installs terminals for the payment of excess baggage
Our expertise focused on your needs
Digitisation is not only for private individuals and companies. Local authorities, town halls, tourist offices and CCIs can, and must, modernise by integrating computers into their communications. For these public entities, communication via digital signage is a real opportunity to be noticed and to enhance their image. It also allows them to welcome citizens in better conditions and thus fulfil the primary function of local authorities: to ensure a public service mission.
Iagona implements tailor-made digital signage software solutions for public authorities in order to perfectly meet their expectations and needs.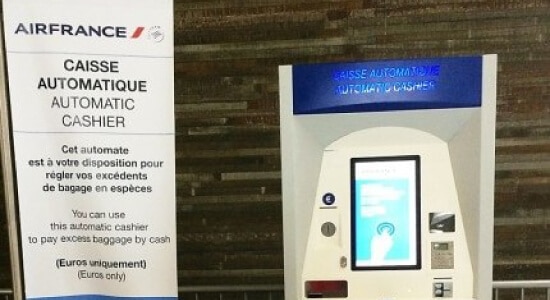 The Air France KLM group wished to adopt an excess baggage payment solution considering that most payments would be made in cash.
After a tender process, Air France KLM group selected the Iagona (formerly Moneyline) solution.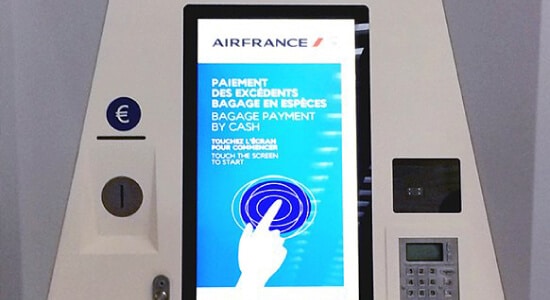 Iagona (formerly Moneyline) developed the kiosk MK 3080, a secure payment kiosk bearing the corporate colours of the Air France KLM group suited for use in airports. The multi-language interface allows passengers to pay their baggage excess by cash or card after scanning their boarding card.
Cash payment can be made either with coins or bank-notes. Iagona provides a full-service offer including the supply of the kiosk and its software, installation, commissioning interventions as well as associated services (7 day on-site maintenance and supervision).

We currently have excess baggage payment kiosks at Roissy CDG, Paris Orly and Amsterdam Schiphol airports designed by Iagona based on our specifications and taking into account the very specific constraints of operating in a 24/7 service airport zone. We appreciated the ingenuity, the respect of deadlines and tariffs of Iagona.