A bank close to its customers
Bank BCP's objective was to improve the experience of its customers in branch. To live up to its principle "A bank close to its customers, even remotely," Banque BCP needs to innovate to make life easier for its customers. And this starts with their experience in the bank's branches.
BCP Bank's first idea was therefore to improve customers' transactions in its branches. But how to go about this?
As a first step, a flow study was carried out in the branches to assess the rate of cash and cheque deposits. The bank realised that it was generating large volumes of cheque deposits.
As with automated cash deposits, it was preferable to offer customers a self-service solution to facilitate cheque deposits. However, as the priority was still to simplify the customer experience, the best approach was to separate the available media to ease flows.
In search of a new bank branch concept, Banque BCP approached the Caisse d'Epargne Haut de France, which was equipped with self-service cheque deposit machines.
BCP Bank then contacted Iagona to find out about our banking solutions and to fit out its branches in the best possible way.
Setting up a key pilot terminal
After examining Iagona's banking solutions, BCP Bank opted for the S4 terminal. It seemed to meet the bank's need for a small, reliable, and digitised facility.
To confirm its choice, a trial terminal was set up in one of the Paris branches. During this test period, customers were able to experiment with cheque deposits completely independently.
As a result, the pilot scheme confirmed that this solution was the right choice, winning over both customers and the branch's employees.
The S4 self-service check deposit terminal was therefore the best solution for the various needs of the bank branches.
When a bank branch installs ATMs, it needs to think about the space available in branch, but also about the layout and the flows studied. For example, to introduce a cheque deposit machine, you usually need to build the machine into a wall, thereby creating a secure access area to the machine, also known as a secure facility (SF). It is with all this in mind that BCP Bank decided to install mainly S4 terminals but also S10 terminals for branches with a high volume of cheque deposits, i.e. 10% of the branch network.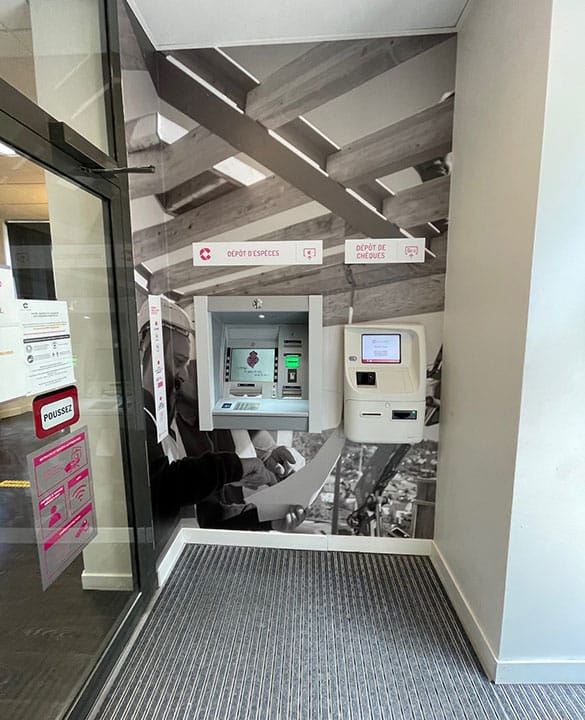 WHAT BCP BANK CUSTOMERS THINK
Customer satisfaction has been very high since the installation of the terminals. Their ergonomic design, making it easy to navigate the screens and use them – whether to log in by inserting a bank card, to deposit cheques or print receipts – is greatly appreciated.
The ease of use of the terminals makes them extremely accessible for all ages.

We are very happy with the responsiveness and proximity of Iagona's staff. This enabled us to roll out the project very quickly as we wanted. In addition, the terminals are reliable and rarely crash. It is important for us to work with a trusted partner who offers high-quality solutions.
Yohann PEREIRA
Head of distribution at BCP Bank