DIGITAL TRANSFORMATION OF THE POSTAL INDUSTRIES
Digital transformation :

postal industries are modernizing



Live from Vienna, where Iagona is participating in the Parcel and Post Expo, dedicated to future technologies, solutions and services for parcel delivery, e-commerce logistics and postal industries.
With the MK Post self-service kiosk, our new generation digital equipment, Iagona's teams are aiming at the international market.
WHY ARE THE POSTAL INDUSTRIES GOING DIGITAL?
In recent years, the global e-commerce boom and successive confinements have significantly and permanently changed consumer habits.
While mail delivery is declining, the explosion of online shopping is generating a colossal volume of parcels to be transported and delivered – in ever shorter timeframes to satisfy demanding customers – and to stand up to the giants of online commerce. Faced with these upheavals, the postal industries are accelerating their digitalization to meet their customers' needs.
THEIR EXPECTATIONS
More modern post offices, self-service terminals to carry out procedures autonomously and a better handling of requests at counters. And innovative applications linking our cell phones to self-service kiosks. Innovation, easy-to-use tools, with complete peace of mind.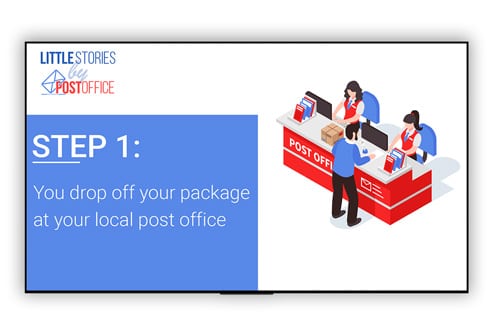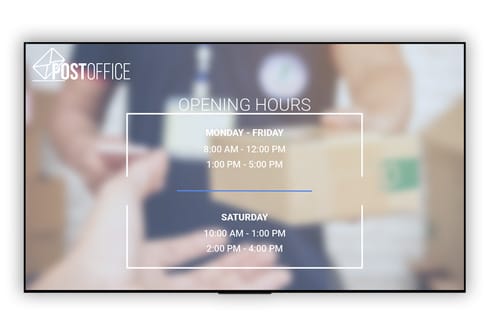 INFORM ON YOUR ESTABLISHMENT
This is why making digital helpful – our motto for over 30 years – is more relevant than ever
Just as postal agencies around the world are evolving their service offering to provide an increasingly demanding public with state-of-the-art digital tools and self-service. We are reinventing the customer experience. We design, manufacture, market and maintain digital solutions for all sectors.
Why choose MK Post for your postal agencies?
To modernize and digitize a sector of activity of public utility
To reduce the flow at the counter
To improve customer satisfaction and « make customers' happy »
To meet new market requirements
Indeed, according to an Escher Group report, The Future of Posts – Growth Strategies for 2020 and Beyond, more than 45% of international post offices reported a substantial increase in parcel volumes during the pandemic. And 83% have adopted new solutions and approaches to adapt to this new environment.
In particular, 60% of Posts are integrating self-service kiosks.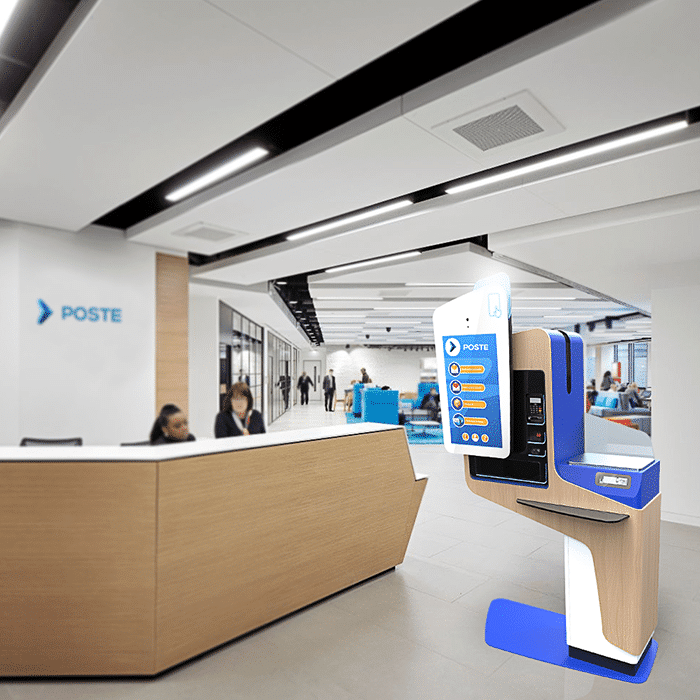 Presentation of the MK Post, self-service postal terminal
The MK Post self-service kiosk offers the best of technology to its users. It is an intuitive and innovative kiosk that meets CE standards.
Accessible to all, including people with reduce mobility, the MK Post offers an all-in-one service, allowing to order and pay by card or cash all types of postal services.
Buy stamps, weigh letters and parcels, apply postage
Scan and print documents
The MK Post has been designed and produced in France, with the possibility to integrate different options. Payments are secured with the integrated Eftpos terminal and transactions are secured with the privacy filter integrated in the screen.
Optional:
A coin acceptor for cash payments
A pinpad/touchpad option to provide multiple navigation choices
A biometric reader for faster identification
A new generation scanner
Digital signage in postal agencies
Even if their efficiency is no longer to be demonstrated, let's remember the benefits brought by digitalization in postal agencies.
Restore the image of a sector of activity often perceived as old-fashioned
Improve the customer's waiting experience
Inform about new postal services and other key products
Offer self-service products, accessible 7 days a week, 24 hours a day
In addition to the design of specific interactive kiosks, such as the MK Post, our expertise is based on the creation of high-tech digital tools, listed under the digital signage category. Here are a few examples that can be customized for the Post Office.
Interior screens placed above the counters (or in the window)
With text, video, pictograms, they allow to relay continuous information. A usefull way to keep informed while waiting.
            Screens in the offices (back office)
Whether for the reception of the public or for the back office, digital screens are a powerful tool for internal and institutional communication. In addition, they can be linked together to broadcast corporate messages or commercial offers accross different offices.
            Self-service digital kiosks, such as cheque deposit kiosks, multi-deposit machines, digital reception kiosks and many other possibilities.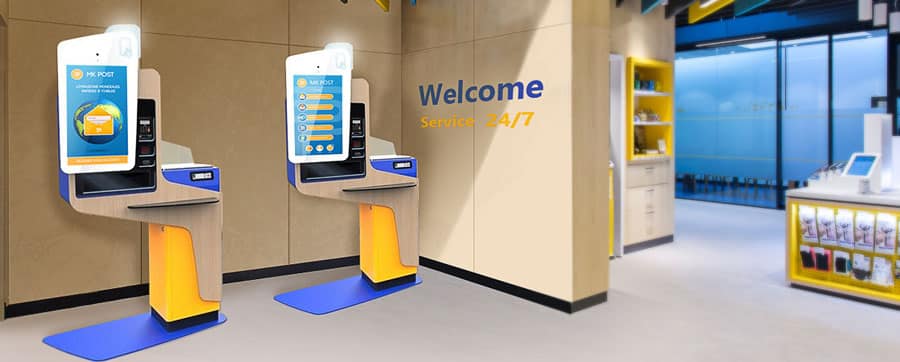 Partnerships and diversifications
We believe in a future where technology simplifies everyday life, for the benefit of all. And where, as companies, we join forces and our know-how to make innovation shine beyond borders.
Represent the French Tech at its best, challenge the existing and support companies in their digitalization this is what we are determined to accomplish with pragmatism, agility, conviviality and commitment.
Check out out other articles