Digitalization of points of sale
Points of sale have been rapidly digitized in recent years and now promote advertising or information at the point of sale, through digital signage devices, placed in the window or inside the store.
Digital signage is highly appreciated by consumers because it is more attractive and relevant and much less intrusive than some advertisements. Indeed, 75% of visitors remember a digital signage compared to 44% for traditional signage. (source : IPSOS)
Although the majority of consumers prefer to go to the physical point of sale, access to information on the Internet and e-commerce are increasingly attractive and have changed consumer habits, quickly putting the points of sale at risk.
The main challenge for the retail sector is to improve the customer experience, with a focus on personalized and responsive multimedia content. Digital signage has the advantage of being accessible to everyone without being intrusive.
According to the study conducted by Samsung in 2016, nearly 60% of points of sale in France are equipped with screens and kiosks and 36% of vendors are equipped with connected tablets.
However, digital signage is not yet used optimally since 66% of content is static, and only 24% of users have set up monitoring indicators to evaluate the performance of Digital Media devices.
The stakes of digital signage at the point of sale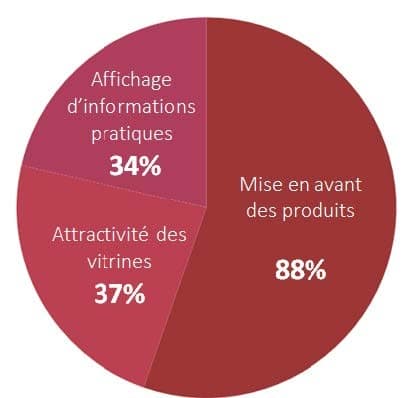 Digital media at the point of sale is used for various reasons, but more particularly to highlight the best products and new products of a brand, to improve the attractiveness of shop windows by broadcasting promotional offers, or to disseminate various information about the brand, the content of social networks…
Why equip your point of sale with screens?
Improving the attractiveness of the point of sale
Generate trafic
Provide a unique customer experience
Collect informations about the customers
Propose personnalized offers