Dynamic screens for sports: fitness, team sports and swimming pool
Gymnasiums, gyms, sports halls, stadiums, swimming pools and many other sports venues have long since adopted digital signage to create the best possible customer experience in sport. Here's an overview.
Whether it is in a gym or at the municipal swimming pool, information to the visitor is paramount. But it must also be made visible and accessible
Dynamic displays in fitness rooms
Placed at the reception desk of a fitness center, a digital media can inform visitors about the activities offered and rates. Digital signage is thus a real sales aid. In the event of a large number of visitors, it allows the visitor to wait for a sales representative to be available. Display practical information about sports nutrition, fitness machines available in the room or videos presenting the monitors! Anything is possible.
The dynamic screen can also inform members about class schedules, last-minute replacements and special offers. By using an interactive terminal, you can also allow members to take action: for example, to register for a class, to find a room on an interactive map or to leave a message to a coach.
In addition, placing such displays throughout the gym can improve beginners' motivation: while they are pedaling a bike or running on a mat, offer them a varied program, mixing sports and diet advice, weather, horoscopes and news.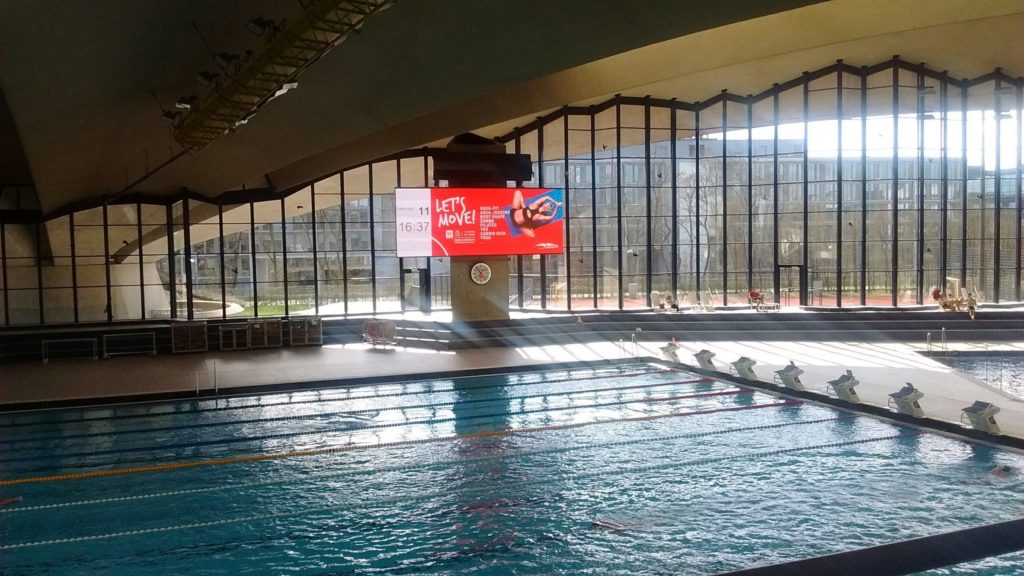 Dynamic displays for sports activities
At the swimming pool reception desk, place the screens near the ticket offices to inform visitors about opening hours – which often vary from one day to the next – school periods and rates. Provide a second screen to promote individual or group lessons, specify their rates and introduce the swimming instructors.
An interactive terminal could be placed nearby to present municipal services, such as other nearby sports facilities. This is an effective way to liven up neighborhood life and encourage the flow of visitors between municipal facilities!
In addition, soccer pitches, basketball or martial arts halls and more generally any sports facility can be equipped with dynamic screens such as terminals, totems or image walls to inform the visitor. Displaying scores during competitions, broadcasting tweets during the match, promoting sponsors, announcing upcoming sports events … the possibilities are endless!